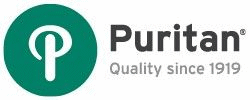 Puritan Medical Products Company
Manufactures the largest range of specimen collection devices for specimen collection and transport. Made in the USA. Trusted worldwide.
Address Guilford
United States
Website
Email
Telephone
+1 207 876-3311
Puritan Medical Products Co., LLC, is a 101-year-old, family-owned American company known worldwide as the trusted manufacturer of single-use products for controlled environments, diagnostics, and specimen collection, environmental, forensics, and genetics, medical, and microbiology media industries. Puritan is FDA-registered and ISO-certified. Our products help customers collect, analyze, and transport specimens with the utmost confidence in the products' integrity. Puritan manufactures all of its patented flock swabs and related products in its headquarters in Guilford, Maine, and Pittsfield, Maine.
Our patented HydraFlock® and PurFlock Ultra® flocked swabs have optimum absorption and elution capabilities and are the preferred swab for specimen collection and patient comfort. Puritan's UniTranz-RT® (Universal transport media) is used to test for viruses, chlamydia, mycoplasma, and ureaplasma specimens at room temperature (RT) or long-term freezer storage. Puritan's Opti-Swab® Modified Liquid Amies transport medium maintains viability of aerobic, anaerobic, and fastidious bacteria.
Also available are our extensive line of Environmental surface collection products - EnviroMax and ESK which were developed in consultation with industry experts in food, pharmaceutical and cosmetic fields to provide environmental surface sampling kits.
Our media transport systems combined with our high performing swabs create the ideal product for specimen collection and transport. Puritan will always be at the forefront, meeting the needs of emerging technologies. For more information please visit our website at www.puritanmedproducts.com
Products
Please note : Any products described on this page are for Research Use Only and not intended for clinical diagnostic procedures unless otherwise stated.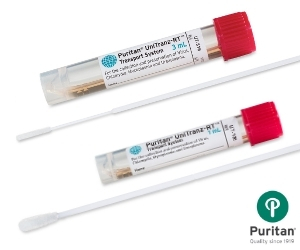 ClinicalVeterinary
Puritan's Unitranz-RT™ Universal Transport Medium is the most reliable choice for the collection, preservation, and transport of viruses, chlamydia, mycoplasma, and ureaplasma specimens at room temperature. Manufactured with emphasis on ease of use and superior performance in the collection and transport of specimens. Our unique design also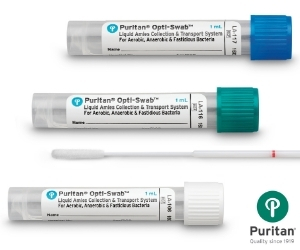 ClinicalVeterinary
The ultimate choice for performance, efficacy and reliability. Puritan's OptiSwab™ Liquid Amies collection and transport systems are uniquely engineered to provide superior performance and ease of use in collection and transport of clinically significant bacteria. Together, Puritan's proprietary patented HydraFlock® swabs combined with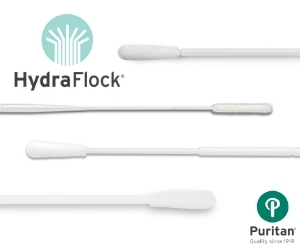 ClinicalVeterinary
A new era in flock swab technology. Specifically engineered for a wide range of biological specimens. HydraFlock®'s three-dimensional microstructure design facilitates greater specimen collection. The multi-length fibers have a greater absorption area than traditional perpendicular nylon flock fibers for more rapid elution and maximal sample preservation.&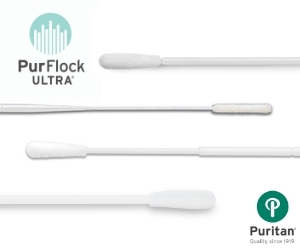 ClinicalOtherVeterinary
Engineered for purity and maximal cell yield with a small sample size, PurFlock Ultra® flocked swabs are ideal for PCR, molecular assays, DFA testing, forensic applications and direct antigen testing. Constructed from technology the results in higher purity than traditional nylon flocked swabs, they provide the greatest balance between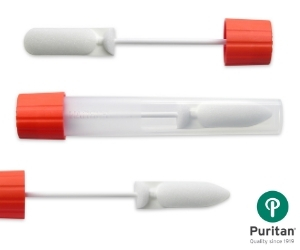 ClinicalFood & BeveragePharmaceutical
EnviroMax® and EnviroMax Plus® - are the ultimate in environmental sampling and food testing applications from the swab experts at Puritan. We spent time in the marketplace with different end users from food production to cosmetics to pharmaceutical firms. The result, a large, firm foam-tipped swab found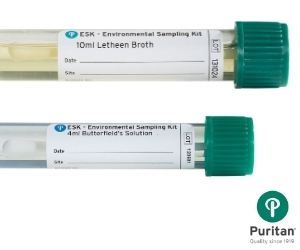 ClinicalFood & BeveragePharmaceutical
Our line of ESK® Sampling Kits are used for environmental monitoring, hygiene control, sanitization programs and bio burden determination across a range of industries, from food safety to pharmaceuticals. You can count on them for accurate, repeatable results.
ClinicalVeterinary
Puritan's dry transport systems are a convenient way to collect and transport specimens from the patient to the laboratory. Dry transport tubes hold a swab in a round bottom tube made from virgin polypropylene resin, creating a safe and sterile environment to accommodate many different styles of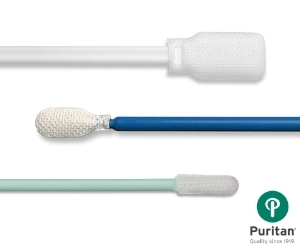 OtherPharmaceutical
Puritan's line of knitted polyester swabs provides cleaning tools that introduce the least amount of contaminants to your process. The swab tips are made from a woven polyester fabric, which are commonly constructed without soluble adhesives. This assures the cleanliness required for your critical environment. Puritan sources fabric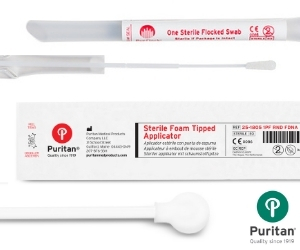 ClinicalOtherVeterinary
Forensic professionals rely on Puritan swabs for clean and accurate sampling. Tested by an independent lab to the most stringent standards (less than 25 pg of human DNA). The results? Certified to be DNA-free at a threshold lower than any other swabs on the market today. Our DNA-controlled swabs are
Microbiology Product Areas
Clinical

NOTE: The products listed in this section may not be approved for clinical diagnostic use in your jurisdiction. You must assume these products are unregulated and therefore cannot be used for routine testing and reporting of results unless otherwise stated.
Preanalyticals
Show all suppliers
Swabs
Show all suppliers
Swabs with Transport Medium
Show all suppliers