17th April 2012 Content supplied by:
Puritan Medical Launches New Diagnostic Collection and Transport Systems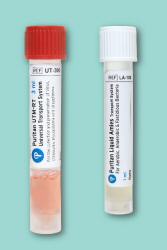 Expanding on the proven value of its American-made diagnostic specimen collection devices, Puritan Medical Products Co. LLC launches two liquid-based multipurpose collection and transport systems for diagnostic use through its newly created division, Puritan Diagnostics Company, LLC.
The universal transport media system has recently received 510k approval in the United States, and approval for the Liquid Amies system is pending. Both systems are approved for sale in Europe. Entirely manufactured in Guilford, Maine, these systems are the crucial first step in the diagnosis of bacterial and viral infections and designed to facilitate safe and effective pre-analytical specimen collection and transport to the laboratory.
The Puritan UTM Transport Systems (UTM) contains a multipurpose medium allowing for transport and maintenance of clinically relevant viruses and bacteria at room temperature. Medical grade plastic components with a leak proof, self-centering cap feature facilitate easy removal and disposal of the swabs.
The Puritan Liquid Amies Transport Systems is a self-contained, ready-to-use multipurpose collection and transport system for aerobes, anaerobes, and fastidious bacteria up to 48 hours at room temperature. Puritan Liquid Amies is an ideal system designed to accommodate both automation and traditional liquid specimen processing in clinical laboratories, including culturing and gram staining.
Puritan swabs are easy to use, with tips designed in different sizes to accommodate various sampling sites, such as nose, throat, and wounds. All handles have pre-molded break points for ease of use with our self-centering cap and soon to be available with custom handle imprinting.
Puritan's executive vice president for global sales, Timothy Templet, notes "The new systems are available with our pure non-yellowing, patent-pending flocked swabs which collect and elute the sample into the transport liquid better than most competing swabs". Templet adds that a major aspect of both new collection systems is "our ability to provide contract manufacturing and work closely with our customers to create custom liquid solutions to meet essential clinical specimen collection and transport needs."
All Puritan Diagnostics Co. products are manufactured at the Guilford, Maine facility, which includes custom media manufacturing and compounding to meet a multitude of customer needs. Research and development product testing, approval and release takes place in house at the company's state-of-the-art microbiology laboratory and conforms to stringent U.S. quality system regulations.
Please note : Any products described on this page are for Research Use Only and not intended for clinical diagnostic procedures unless otherwise stated.
Tags:
Date Published: 17th April 2012
Related news