PurFlock Ultra® Flocked Swabs / Specimen Collection Devices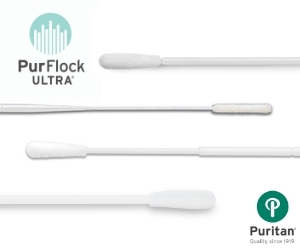 Manufacturer: Puritan Medical Products Co.
Principle: Specimen collection device for a variety of applications
Automation: YES
Approvals: ISO 13485: 2016 • M40-A2 compliant • FDA GMP's • CE Marked • Certificate of sterility and/or conformance available with each shipment upon request
Suitability: Superior specimen collection and elution
Capital equipment required: NO
Description:
Engineered for purity and maximal cell yield with a small sample size, PurFlock Ultra® flocked swabs are ideal for PCR, molecular assays, DFA testing, forensic applications and direct antigen testing. Constructed from technology the results in higher purity than traditional nylon flocked swabs, they provide the greatest balance between purity and sample collection efficiency on the market. Ideal for various rapid diagnostic tests.
Key Points:
Buccal cell collection
Specimen collection
Forensic evidence collection / DNA testing
Rapid diagnostic testing
Various tip shapes and sizes
Polystyrene handle offered with molded breakpoints
Individually wrapped in paper/poly pouch. Also offered in a dry transport tube.
Patented: US, Canada, Europe, Australia, Japan, China.
Patents Pending: Hong Kong
Made in USA