30th August 2016 Content supplied by: Puritan Medical Products Company
Puritan Releases New Line of Enrichment and Transport Media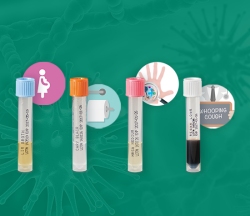 Puritan Medical Products, North America's largest manufacturer of swabs and specimen collection devices, announces the release of four new prepared microbiology media:
Cary-Blair: A transport medium for the preservation of fecal and rectal specimens containing enteric pathogenic bacteria. It is another modification of Liquid Stuarts, but with a focus on fecal specimens collected with rectal swabs. This medium is used to detect enteric pathogens, such as Salmonella, Listeria, and E. coli.
MRSA: An enrichment medium designed specifically for detection of Methicillin-resistant Staphylococcus aureus (MRSA).
LIM Broth: An enrichment medium used for detection of Group B strep in pregnant women.
Regan-Lowe: A semi-solid transport medium used for Bordetella pertussis (whooping cough). Charcoal is used in this media, which aids in facilitating growth.
The new medias, used for enriching and transporting collected specimens, are available with 2ml or 5ml fill volumes. Swabs are not included in the vials.
"Microbiology automation is an important trend in the industry right now," said Mehdi Karamchi, Puritan's VP of Scientific Affairs. "We're seeing more and more companies offer liquid-based media to fit the new automation platforms. Puritan needed to be proactive to make sure we're also on the cutting edge, and that's why we've released this new line."
With the addition of these products, Puritan is now truly a one-stop shop for all transport and enrichment media needs. Those interested in more product or ordering information should contact one of our knowledgeable sales reps today.

Please note : Any products described on this page are for Research Use Only and not intended for clinical diagnostic procedures unless otherwise stated.
Tags:
Date Published: 30th August 2016
Source article link: View
Related news