2nd March 2016 Content supplied by: Puritan Medical Products Company
New from Puritan! Opti-Tranz™ and Opti-Tranz Plus Collection & Transport Systems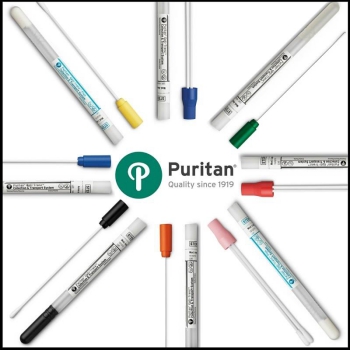 Puritan have introduced Opti-Tranz™ and Opti-Tranz Plus™, a brand new line of traditional liquid and semi solid collection and transport systems for bacteriological applications.
Available with different size swab tips and handles, this new line pairs traditional transport medium options with innovative swab technologies to facilitate the collection of specimens from various patient sites.
Liquid or Agar Gel Amies Transport Medium Available in liquid and semi-solid format, Amies medium is a non-nutritive medium capable of inactivating enzymatic reactions within the cells. It inhibits toxic oxidation reactions in the specimen to prolong cell viability while in transit to the testing laboratory.
Sodium thioglycollate and agar in the medium provide a reduced and semi-solid condition suitable for preservation of aerobic, anaerobic, and fastidious bacteria.
Liquid Amies: Ideal for direct aerobic culture, gram staining and rapid detection tests such as direct antigen tests.
Amies without charcoal: For aerobes, anerobes, and fastidious bacteria culture, and gram staining.
Amies with charcoal: For aerobes, anerobes, and fastidious bacteria culture, and gram staining. Used to neutralize the effect of fatty acids in the samples that may be toxic to microorganisms such as Neisseria gonorrhea.

Liquid Stuart Transport Medium Designed to maintain the viability of microorganisms without significant increase in growth, Stuarts transport medium is a non-nutritive general purpose medium for preservation and maintenance of aerobic bacteria. It contains sodium thioglycollate as a reducing agent, and sodium glycerophosphate to buffer calcium chloride. It is recommended for use with rapid detection tests.
HydraFlock: An Added Bonus When you need greater absorption and more efficient release, give yourself an added bonus - Opti-Tranz™ Plus. Puritan is the only manufacturer on the market to offer our patented HydraFlock® flocked swabs in this traditional line of transport systems.
HydraFlock® swabs are used in a variety of clinical settings and diagnostic tests because of the proprietary manufacturing process and three-dimensional microstructure fiber design.
With a swab this superior, you'll be hard pressed not to love it.
The Puritan Advantage Designed for optimum sample preservation and patient comfort, our swabs are what set the Opti-Tranz™ and Opti-Tranz Plus™ apart from the competition.
Soft rayon tips are non-toxic and made from the finest USP grades of rayon fiber, which we card and coil on-site to maintain consistency. Choose from miniature or standard size tips on polystyrene or aluminum wire shafts. Elongated HydraFlock® swabs are available in the Opti-Tranz Plus™ line.
Standard tip configurations are used to collect throat, vaginal, wound, and skin specimens while the miniature size tips are ideal for ear, nose throat, eye, and male urethral sampling.
With the introduction of this new line, Puritan has further expanded its extensive line of specimen collection devices to make their products more universally accessible and useful. Now Puritan customers can purchase all their specimen collection tools from the same place.
Please note : Any products described on this page are for Research Use Only and not intended for clinical diagnostic procedures unless otherwise stated.
Tags:
Date Published: 2nd March 2016
Source article link: View
Related news