Puritan Dry Transport Tubes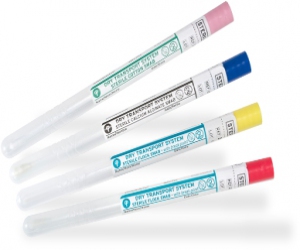 Manufacturer: Puritan Medical Products Co.
Principle: Sterile and convenient specimen collection and transport device
Automation: NO
Approvals: ISO 9001:2008 • ISO 13485:2003 • FDA GMP's • Certificate of sterility and/or conformance available with each shipment upon request
Suitability: Specimen collection device in dry transport tube
Capital equipment required: NO
Description:
Get all of your specimen collection devices in one place. Puritan's new dry transport system securely holds a swab in a round bottom tube made from virgin polypropylene resin, creating a safe and sterile environment to accommodate many different styles of collection devices.
Key Points:
Specimen collection and screening
Wound care
Cell collection for testing and screening
Rapid diagnostic testing
Shelf life 3 years
Made in USA
Company contact details:
Puritan Medical Products Company
view full details
Guilford
ME
United States
Website:
Visit Website
Tel: +1 207 876-3311