13th January 2014 Content supplied by:
Puritan Medical Products Awarded Two New Flocked Swab Patents in Japan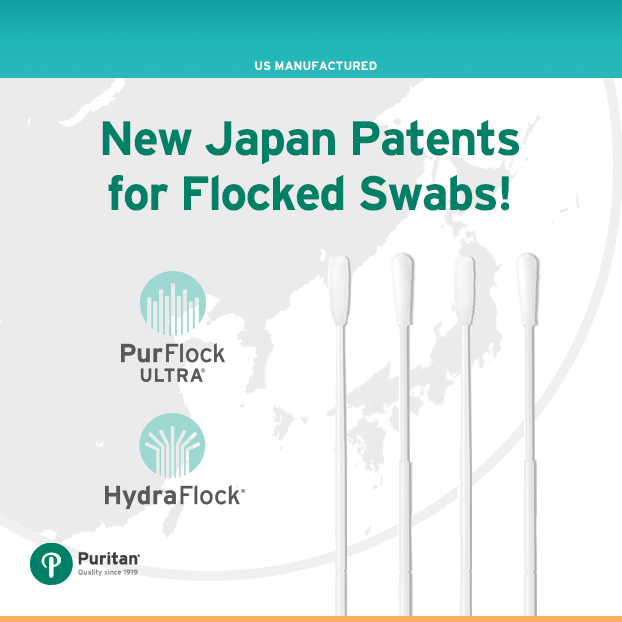 Puritan Medical Products, the largest manufacturer of single-use specimen collection devices, has announced two new Japanese patents for their revolutionary high-performance flocked swabs.
The patents for the HydraFlock® swab (No. 2012-522818) and PurFlock Ultra® swab (No. 2012-522817) are the ninth and tenth international patents Puritan has received. Puritan also has device and method patents in the United States, Canada, Europe, and Australia for their line of flocked swabs, with patents pending in China.
"As our high-performance devices and proprietary methods continue to distinguish Puritan in the industry, we're expanding into a greater number of international markets," said Timothy Templet, Puritan's Executive Vice President of Global Sales. "Japan's patent awards speak to our growing recognition as one of the most trusted manufacturers of single-use medical products worldwide."
Puritan's HydraFlock® and PurFlock Ultra® swabs represent a pioneering evolution in flocked swab manufacturing technology. They are the only swabs on the market with a unique three-dimensional microstructure design resulting from specially developed fibers and a proprietary flocking process.
Multiple studies have shown HydraFlock® and PurFlock Ultra® swabs to have superior absorption capacity and more rapid specimen elution properties. The result is greater sample purity and consistency without the need for additional fiber treatments or multiple specimen collections.
HydraFlock® and PurFlock Ultra® swabs may be purchased individually, or as a part of Puritan's viral or bacterial transport systems. HydraFlock® flocked swabs, combined with Puritan's liquid amies bacterial transport systems, are uniquely engineered to provide superior performance and versatility in the collection and transport of clinically significant bacteria.
PurFlock Ultra® flocked swabs are used with Puritan's UniTranz-RTTM universal transport medium systems for the collection, preservation, and transport of viruses, chlamydia, mycoplasma, and ureaplasma specimens at room temperature (RT) or long-term freezer storage. Both kits are compatible with standard and automated laboratory equipment.
Please note : Any products described on this page are for Research Use Only and not intended for clinical diagnostic procedures unless otherwise stated.
Tags:
Date Published: 13th January 2014