UniTranz-RT Media Transport Systems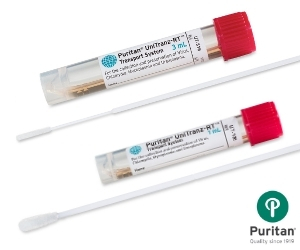 Manufacturer: Puritan Medical Products Company LLC
Principle: Rapid diagnostics, specimen collection and preservation
Automation: Fully compatible with automated systems. Rapid diagnostic tests
Approvals: ISO 13485: 2016 • M40-A2 compliant • FDA GMP's • CE Marked • Certificate of sterility and/or conformance available with each shipment upon request
Suitability: Collection and transport of viruses, chlamydia, mycoplasma, and ureaplasma specimens
Capital equipment required: NO
Description:
Puritan's Unitranz-RT™ Universal Transport Medium is the most reliable choice for the collection, preservation, and transport of viruses, chlamydia, mycoplasma, and ureaplasma specimens at room temperature.
Manufactured with emphasis on ease of use and superior performance in the collection and transport of specimens. Our unique design also allows for integration with automated and traditional culture methods.
This product ensures the safe transport of clinical specimens and flexibility for immediate testing or refrigerated storage when immediate testing is not possible.
Key Points:
Leak-proof, self-centering cap
Shatterproof, medical-grade transport vial
Ideal transport medium
Standard or customized breakpoints accommodate different sampling site
Variety of Swab Styles
Made in USA
Company contact details:
Puritan Medical Products Company
view full details
Guilford
ME
United States
Website:
Visit Website
Tel: +1 207 876-3311