2nd July 2018 Content supplied by: Puritan Medical Products Company
Testing for Foodborne Pathogens in your Operation? Consider Puritan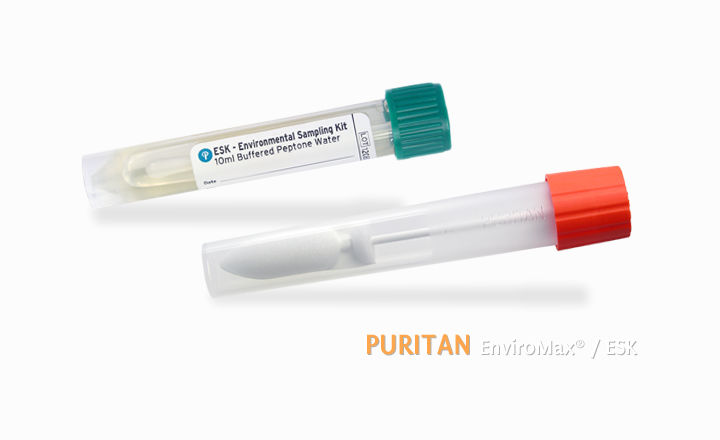 Long recognized as a leading manufacturer of specimen collection devices for every application, Puritan brings you EnviroMax® and ESK® devices for the collection and transport of food borne pathogens.
EnviroMax® (dry) & EnvrioMax Plus® (pre-moistened):  Ideal for sampling large surfaces. Oversize foam tip securely held in a quick-turn-open, leak resistant cap. Two tip styles – rounded or pointed. Pointed tip for crevices and corners. Rounded tip for counters, floors and larger equipment surfaces. EnviroMax Plus is pre-moistened with neutralizing buffer and 0.1% of Peptone water.
Norovirus Detection Swab: Puritan's recently released norovirus detection kit, makes your environmental monitoring and sampling more complete. Used for the detection of human norovirus on environmental surfaces using a newly developed protocol by the Center for Disease Control to assist in determining the level of environmental contamination during outbreaks.
ESK® Sampling Kits –These simple and easy-to-use kits are recommended for environmental monitoring, hygiene control, sanitation programs, and bioburden determination. A 3" polyester tipped swab is attached to the cap, giving you an extra rigid handle length for firm control. Available with Neutralizing Buffer, Letheen Broth, Butterfield's Solution or Buffered Peptone Water in 4ml or 10ml fill volumes.
Details can be found at www.puritanmedproducts.com, where you can find answers to your questions, or chat online, and request samples.
Tags:
Date Published: 2nd July 2018
Source article link: View
Related news