OptiSwab™ Liquid Amies Transport Systems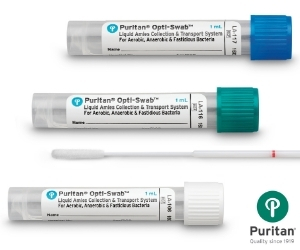 Manufacturer: Puritan Medical Products Company LLC
Principle: Bacteria for diagnostic technologies. Flocked swab with liquid Amies transport medium
Automation: Fully compatible with automated systems. Validated on Copan's WASP™. Rapid diagnostic tests.
Approvals: ISO 13485: 2016 • M40-A2 compliant • FDA GMP's • CE Marked • Certificate of sterility and/or conformance available with each shipment upon request
Suitability: Collection and transport of clinically significant bacteria
Capital equipment required: NO
Description:
The ultimate choice for performance, efficacy and reliability. Puritan's OptiSwab™ Liquid Amies collection and transport systems are uniquely engineered to provide superior performance and ease of use in collection and transport of clinically significant bacteria. Together, Puritan's proprietary patented HydraFlock® swabs combined with modified liquid Amies transport medium provide and ideal buffered environment to protect aerobic, anaerobic and fastidious bacterial viability during specimen collection and transport.
Key Points:
Leak proof, self-centering cap
Safe, integrated transport vial
Modified liquid Amies medium
Variety of swab styles
Pure specimen collection
Made in USA