4th March 2013 Content supplied by:
Puritan Sees New Growth In Liquid Amies Market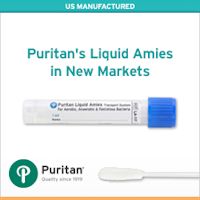 Puritan Medical Products is experiencing a second bump in business after the country´s worst flu season in a decade led to an unprecedented demand for the Puritan UTM-RT Transport System line of products.
A new customer base who started using Puritan UTM-RT Transport Systems during the flu demand has begun choosing other Puritan products, especially Puritan´s Liquid Amies Transport Systems.
"Because so many new clients came to us during the flu demand and had a chance to validate our UTM-RT Transport Systems, we´ve seen many more new clients also selecting our liquid amies transport systems," said Puritan EVP of Sales Timothy Templet. "It´s great to know that once people use our products, Puritan´s quality and reliability speaks for itself."
A national flu season that was the worst in more than a decade also meant an unprecedented demand for Puritan´s UTM-RT Transport Systems, commonly used for transporting specimens to the laboratory for the testing of influenza.
Puritan offers three types of liquid amies for specimen collection and transport of clinically significant bacteria. Each system includes the patented Puritan HydraFlock® swab specially designed with a transport tube, and self-centering, leak-proof cap.
With offices in Portland, ME and a manufacturing plant in Guilford, ME, Puritan is an American manufacturer of single-use products for the global market in the diagnostic, healthcare, forensic, critical environment, food safety, and drug manufacturing industries.
Please note : Any products described on this page are for Research Use Only and not intended for clinical diagnostic procedures unless otherwise stated.
Tags:
Date Published: 4th March 2013