15th January 2013 Content supplied by:
Puritan has UTM-RT Products Available Now for Flu Season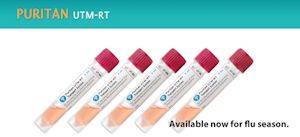 Despite an industry-wide shortage of UTM-RT products due to a flu season that has already brought peak reporting levels in the United States, Puritan Medical Products Co., LLC announced today that it´s UTM-RT product line is now readily available in stock and that orders can be shipped in 24 hours or less.
"The elevated activity associated with this flu season seems to have had a serious impact on the industry´s ability to meet demand for UTM-RT products," said Puritan EVP of Sales Timothy Templet. "Puritan manufactures products right here in the USA and we are able to accommodate the increased demand for UTM-RT products for testing of the influenza virus at competitive pricing."
Puritan is an American manufacturer of single-use medical products for the global market in the healthcare, forensic, critical environment, food safety, and drug manufacturing industries. UTM-RT (Universal Transport Medium) products allow the medical industry to collect clinical specimens to test for the flu virus. Puritan manufactures 11 types of UTM-RT products as well as swabs for diagnostic collection.
The Centers for Disease Control and Prevention recorded elevated levels of influenza diagnosis in nine of the 10 regions it monitors in the U.S. in it´s most recent reporting for the last week of December. Twenty-nine states have reported high levels of influenza like- illness and another nine states are reporting moderate levels, according to the CDC.
"Reports of influenza-like-illness (ILI) are nearing what have been peak levels during moderately severe seasons," said the CDC´s Chief of the Epidemiology and Prevention Branch Dr. Joe Bresee in a CDC Jan. 4 press release.
A common method of testing for influenza requires collection of nasopharyngeal swab samples. The CDC has recommended using synthetic tip swabs for this practice. Puritan´s line of PurFlock® Ultra Flocked Swabs are commonly used in this type of diagnostic collection and are standard in many of Puritan´s UTM-RT kits.
Please note : Any products described on this page are for Research Use Only and not intended for clinical diagnostic procedures unless otherwise stated.
Tags:
Date Published: 15th January 2013