15th July 2013 Content supplied by:
Puritan Awarded New Canadian Patent for PurFlock® Ultra Flocked Swab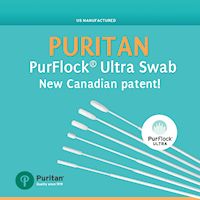 Puritan Medical Products, a leading manufacturer of flocked swabs, announced today that it has been granted a new Canadian patent for its high-performance PurFlock® Ultra flocked swab.
The latest Canadian patent (No. 2744678) is the sixth specimen collection device patent that Puritan has been awarded worldwide.
"The Canadian patents for our flocked swabs are a testament to Puritan's celebrated innovation in the single-use specimen collection microbiology transport market,' said Puritan EVP of Global Sales Timothy Templet. "With our sixth patent, Puritan continues to expand our position as a global leader in the invention and manufacture of highperformance flocked swabs for specimen collection and transport."
By combining a unique microstructure with cutting-edge fibers, Puritan´s PurFlock® Ultra and HydraFlock® swabs provide superior sample collection, rapid elution, and increased test sensitivity. Both flocked swabs are used in bacterial and viral transport systems and have been globally validated with automated systems and manual laboratory testing practices.
A Canadian device and method patent (No. 2744282) has been previously awarded for the HydraFlock® swab. Puritan has also received U.S. patents for the HydraFlock® swab (No. 8334134) and the PurFlock® Ultra (No. 8420385). In June, Puritan received two European patents for the PurFlock® Ultra (No. 2263549) and HydraFlock® flocked swabs (No. 2263548).
Puritan has expanded rapidly over the last few years as a direct result of the company´s effort to meet the evolving needs of the microbiology, healthcare, forensic, critical environment, food safety, and drug manufacturing industries.
Today, Puritan manufactures more than 35 types of specimen collection devices including the newly patented flocked swabs or media-filled transport systems. Puritan´s on-site state-of-the-art microbiology laboratory conforms to stringent U.S. quality system regulations. All research and development, product testing, approval and release take place at Puritan's facility in Guilford, ME.
Please note : Any products described on this page are for Research Use Only and not intended for clinical diagnostic procedures unless otherwise stated.
Tags:
Date Published: 15th July 2013