DNA Controlled / DNA-Free Sampling Swabs and Transport Systems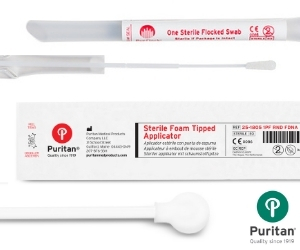 Manufacturer: Puritan Medical Products Co.
Principle: Specimen collection device for forensic and human genetic applications
Automation: NO
Approvals: ISO 13485: 2016 • FDA GMP's • CE Marked •Certificate of sterility and/or conformance available with each shipment upon request • Certified to be DNA-free, DNase-free, and RNase-free (less than 25pg human DNA)
Suitability: Specimen evidence collection, DNA testing, buccal cell collection
Capital equipment required: No
Description:
Forensic professionals rely on Puritan swabs for clean and accurate sampling. Tested by an independent lab to the most stringent standards (less than 25 pg of human DNA). The results? Certified to be DNA-free at a threshold lower than any other swabs on the market today. Our DNA-controlled swabs are also manufactured in a DNA-controlled and monitored clean room environment.
Key Points:
Crime scene investigation
Buccal cell collection
Specimen collection
Trace evidence collection
Sterile and individually wrapped in a peel pouch or packed in an dry transport tube
Made in USA
Please note : Any products described on this page are for Research Use Only and not intended for clinical diagnostic procedures unless otherwise stated.