HydraFlock® Flocked Swabs / Specimen Collection Devices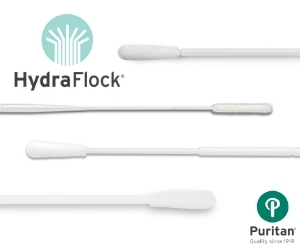 Manufacturer: Puritan Medical Products Company LLC
Principle: Specimen collection device for a variety of applications
Automation: YES
Approvals: ISO 13485: 2016 • M40-A2 compliant • FDA GMP's • CE Marked • Certificate of sterility and/or conformance available with each shipment upon request
Suitability: Superior specimen collection and elution
Capital equipment required: No
Description:
A new era in flock swab technology. Specifically engineered for a wide range of biological specimens. HydraFlock®'s three-dimensional microstructure design facilitates greater specimen collection. The multi-length fibers have a greater absorption area than traditional perpendicular nylon flock fibers for more rapid elution and maximal sample preservation. Ideal for a variety of clinical settings and diagnostic tests.
Key Points:
Buccal cell collection
Forensic evidence collection / DNA testing
Rapid diagnostic testing
Specimen collection
Polystyrene handle with molded breakpoints
Individually wrapped in paper/poly pouch. Also offered in a dry transport tube.
Patented: US, Canada, Europe, Australia, Japan, China.
Patents Pending: Hong Kong
Made in USA
Please note : Any products described on this page are for Research Use Only and not intended for clinical diagnostic procedures unless otherwise stated.