Knitted Polyester Swabs for Pharmaceutical Manufacturing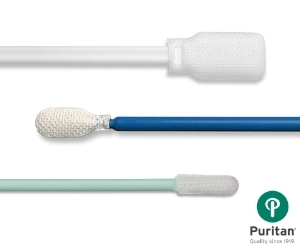 Manufacturer: Puritan Medical Products Co.
Principle: Collection device for industrial and critical environments
Automation: NO
Approvals: ISO 13485: 2016 • FDA GMP's • CE Marked • Certificate of sterility and/or conformance available with each shipment upon request • Certified to be DNA-free, DNase-free, and RNase-free (less than 25 pg human DNA)
Suitability: Removal of residues and particulates
Capital equipment required: No
Description:
Puritan's line of knitted polyester swabs provides cleaning tools that introduce the least amount of contaminants to your process. The swab tips are made from a woven polyester fabric, which are commonly constructed without soluble adhesives. This assures the cleanliness required for your critical environment. Puritan sources fabric directly for these specialty products so they fit your exact specification.
Key Points:
Ultra sonic tip with sealed edges

Non-abrasive tip

Chemical resistant

Low in NVR's and particle generation

Lint-free

Made in USA