20th January 2015 Content supplied by: Puritan Medical Products
Puritan Liquid Amies Compatible with Copan's WASP® Micro Lab Automation
A recent study presented during ASM 2014 shows Puritan's Liquid Amies Transport Systems and HydraFlock® flocked swabs work as well or better in Copan's WASP®: Walk-Away Specimen Processor than Copan's own swabs.
In recent years several microbiology lab automation platforms have been introduced to improve laboratories' operation efficiency and daily specimen through put. One critical aspect for laboratories considering automation is to make sure the system is flexible and built to embrace a variety of specimen types and multiple tube sizes.
Puritan's Liquid Amies Transport Systems were tested alongside Copan's ESwab, a comparable brand of product, with the WASP® instrument, in a comparative study.
The results of the study showed that Puritan Liquid Amies Transport Systems are compatible with the WASP®. The study also demonstrated parity of diagnostic performance between Puritan Liquid Amies and Copan's ESwab when used in the WASP® instrument.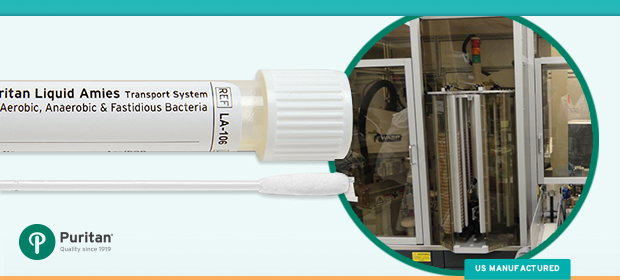 Please note : Any products described on this page are for Research Use Only and not intended for clinical diagnostic procedures unless otherwise stated.
Tags:
Date Published: 20th January 2015
Source article link: View