19th March 2013 Content supplied by:
Puritan Awarded U.S. Patent for PurFlock® Ultra Flocked Swab Collection Device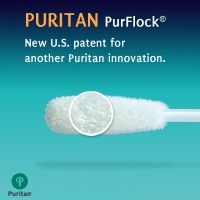 Puritan Medical Products, North America´s largest manufacturer of single-use medical products, has announced that it has received a new United States patent for its high-performance PurFlock® Ultra swab, marking the second collection device patent the company has been awarded for flocked swabs since December.
"This second collection device patent for our PurFlock® Ultra collection device swab solidifies Puritan´s worldwide reputation as a specialty swab manufacturer," said Puritan EVP of Sales Timothy Templet. "Puritan has once again proven its ability to manufacture high-performing products for use as specimen collection devices."
Puritan´s latest flocked swab application (No. 12/849,250) from the United States Patent and Trademark Office (USPTO) is for both inventing the PurFlock® Ultra swab as well as for its unique manufacturing process.
The U.S. patent Puritan received for the HydraFlock® swab in December (No. 8,334,134) was also for inventing the product itself as well as for the unique manufacturing method involved.
Puritan´s swabs produce superior sample collection, rapid elution, and increased test sensitivity by combining a unique microstructure with innovative fibers. Both the PurFlock® Ultra and HydraFlock® swabs are used in viral and bacterial transport systems and have been validated around the world with automated and manual laboratory practices.
Puritan was previously awarded a Canadian patent (No. 2,744,282) for the HydraFlock® swab as a product and for the manufacturing process in September. Patents for both the HydraFlock® swab and PurFlock® Ultra are also pending in other countries throughout the world.
Puritan Medical Products has expanded rapidly over the last few years as a direct result of the company´s effort to meet the evolving needs of the healthcare, forensic, critical environment, food safety, and drug manufacturing industries.
Puritan now manufactures more than 35 types of swabs including the PurFlock® Ultra and HydraFlock® swabs, both manufactured in Guilford, Maine by American workers.
Please note : Any products described on this page are for Research Use Only and not intended for clinical diagnostic procedures unless otherwise stated.
Tags:
Date Published: 19th March 2013