ESK® Sampling Kits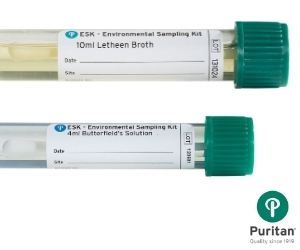 Manufacturer: Puritan Medical Products Co.
Principle: Environmental surface sampling
Automation: NO
Approvals: ISO 13485: 2016 • FDA GMP's • CE Marked • Certificate of sterility and/or conformance available with each shipment upon request
Suitability: Environmental monitoring, hygiene control, sanitation programs
Capital equipment required: NO
Description:
Our line of ESK® Sampling Kits are used for environmental monitoring, hygiene control, sanitization programs and bio burden determination across a range of industries, from food safety to pharmaceuticals. You can count on them for accurate, repeatable results.
Key Points:
Used for on the spot QC
High-quality Puritan polyester tipped swab
Swab is securely attached to a leak-resistant cap, giving you optimum control
Pre-filled with 4ml / or 10ml of Butterfields Solution, Letheen Broth, Neutralizing Buffer, Buffered Peptone Water
Available in bulk packaging
Shelf life - 18 months
Made in USA
Areas:
Clinical

Food & Beverage

Pharmaceutical