29th October 2013 Content supplied by:
New Name for Puritan Diagnostics Sample Transport System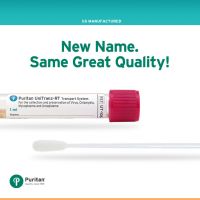 Puritan Diagnostics have changed their popular universal transport medium-used to test for virus, chlamydia, mycoplasma and ureaplasma - it will now be sold under the brand name UniTranz-RT™.
"We've had a remarkable response to this product line from the laboratory community due to superior quality and consistent availability," said Puritan Executive Vice President Timothy Templet. "To better reflect the quality of our products and align them with the brand we've spent more than 90 years building, we have renamed the universal transport medium product line."
Puritan's steadfast commitment to quality extends to their newest product line of media collection and transport systems. Combining groundbreaking research and development, product feedback and patented manufacturing methodology, Puritan's universal transport systems have excelled in performance and reliability. This is reflected by increased customer demand and a growing market share.
The new UniTranz-RT™ brand label makes it easier for customers to quickly identify and differentiate Puritan's superior product line.
Puritan UniTranz-RT™ offers customizable options available for specific diagnostic needs. UniTranz-RT™ products comprise the most complete, versatile and reliable system for collecting and preserving virus, chlamydia, mycoplasma, and ureaplasma samples.
"Nothing about our transport systems has changed," Templet reiterated. "We want our customers to know that they can expect the same levels of Puritan quality and consistency they've counted on since 1919. The only thing that's different is the name."
In the weeks ahead, Puritan will provide updates on the transition. Meanwhile, be sure to visit our website for the latest information.
Please note : Any products described on this page are for Research Use Only and not intended for clinical diagnostic procedures unless otherwise stated.
Tags:
Date Published: 29th October 2013