25th November 2013 Content supplied by:
Puritan Awarded Two New Flocked Swab Patents in Australia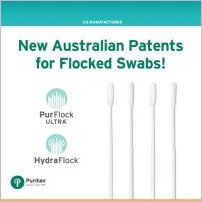 Puritan Medical Products has been awarded two new Australian patents for their high-performance flocked swabs.
The patents for the HydraFlock® swab (No. 2010341422) and PurFlock Ultra® swab (No. 2010341421) are the seventh and eighth international patents Puritan has received. Puritan also has device and method patents in the United States, Canada, and Europe for their line of flocked swabs, with patents pending in China and Japan. "The ongoing recognition of our innovative products and methods speaks to the resourcefulness of our research and development team," said Timothy Templet, Puritan's EVP of Global Sales. "To meet the ever-changing demands of our diverse customer base, we´ll continue to invest in equipment and resources to support further innovation - helping to revolutionize care one patent at a time.
"Puritan´s HydraFlock® and PurFlock Ultra® swabs are differentiated from other flocked swabs by their unique microstructure and proprietary flocking process, providing for superior absorption and more rapid elution of specimen without the introduction of additional fiber treatments that may hinder swab-test accuracy.
Both swabs may be purchased on their own, or as part of Puritan´s viral or bacterial transport systems. The HydraFlock® flocked swabs are combined with Puritan´s liquid amies bacterial transport systems uniquely engineered to provide superior ease of use in the collection and transport of clinically significant bacteria. PurFlock Ultra® flocked swabs are used with Puritan´s newly rebranded UniTranz-RT™ universal transport medium systems for the collection, preservation, and transport of viruses, chlamydia, mycoplasma, and ureaplasma specimens at room temperature (RT).
Please note : Any products described on this page are for Research Use Only and not intended for clinical diagnostic procedures unless otherwise stated.
Tags:
Date Published: 25th November 2013