New Opti-Swab™ Brand Name Reflects Medical Professional's Expectations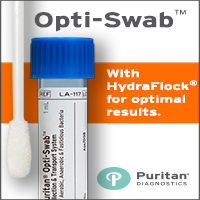 Formerly known as "Puritan Liquid Amies Transport System" for Aerobic & Fastidious Bacteria, this combination of Puritan liquid Amies medium and HydraFlock® swabs is now marketed under a new brand name, Opti-Swab™.
The Opti-Swab™ name and fresh new label assure the end user rapid and easy product recognition and confirmation that they've made the optimal choice. Opti-Swab™ is compatible with both semi and fully automated specimen processing systems.
Click here for further information
Tags:
Date Published: 24th March 2015
Source article link: Puritan Medical Products
Related news