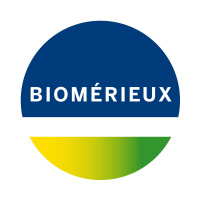 bioMérieux (Industry)
World leader in the field of in-vitro diagnostics, bioMérieux has been providing diagnostic solutions for 50 years, and is now operating in more than 150 countries through 41 subsidiaries and a large network of distributors.
Address Marcy L'Etoile
France
Website
Email
Telephone
+[33] 4 78 87 20 00
Developing and Producing the largest range of microbial control solutions (reagents, instruments, software and services), bioMérieux Industry provides answers from sample preparation to final identification and typing of microorganisms. bioMérieux industry serves with its dedicated teams four main customer types :
Food /Water
BioPharmaceutical
Cosmetic / Personal Care
Veterinarian
bioMérieux Industry's mission is to help ensure consumer, patient and animal health through innovative microbiology control solutions.
Some of the solutions provided by bioMérieux Industry include
Automated equipment for sample and media preparation (SMASHER™, DILUMAT™, APS ONE, MASTERCLAVE®)
Automated system for Rapid Pathogen Detection (VIDAS®)
Automated systems for microbial identification and strain genotypingØ (VITEK®2 Compact, VITEK MS , DIVERSILAB®

)

Automated solution for the enumeration of micro-organisms in food (TEMPO®)
Environmental control : air, water and surface... (SAMPL'AIR™, AIR IDEAL™, 3P™ Traceability, COUNT-TACT®, LABGUARD®)
Rapid microbial detection analyzers for product sterility testing (BACT/ALERT®, BACTIFLOW®, SCANRDI®, D-COUNT®)
Standardized strains for quality control (BIOBALL®)
Endotoxin detection assays based on sustainable rFC (ENDONEXT™)
Detection and quantification of foodborne viruses (CEERAMTOOLS®

 range)

A large offer of culture media including chromogenics
Find out more on www.biomerieux.com
Also see the page bioMérieux (clinical diagnostics applications)
bioMérieux, the blue logo, SMASHER, DILUMAT, VITEK, DIVERSILAB, TEMPO, SAMPL'AIR, AIRIDEAL, 3P, VIDAS, COUNT_TACT, BACT/ALERT, LABGUARD, BACTIFLOW, SCANRDI, D-COUNT and BIOBALL are used, pending or registered trademarks belonging to bioMérieux S.A. or one of its subsidiaries or one of its company.
Microbiology Product Areas