19th June 2017 Content supplied by: bioMérieux (Industry)
How Can Laboratories Simplify the Performance Testing of Culture Media?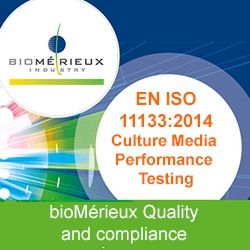 A commitment to compliance is not a one-off action but a continuous process. Manufacturers must also maintain their compliance with performance tests described in specific standards revisions,  published subsequently to the original standards, and which may be slightly modified compared to ISO 11133: 2014.
For all culture media intended for food and water analyses, bioMérieux is fully compliant with the requirements of EN ISO 11133: 2014, and is also committed to maintaining compliance with subsequent up-dates of performance tests required by specific standards.
Users of bioMérieux culture media benefit from Certificates of Control specifying the expected and actual test results and indicating "Controlled according to ISO 11133".
Together with bioMérieux ISO 9001 certification and its established quality management program, all requirements of ISO 11133 (§6.4.2) are met to permit the simplification of performance testing of bioMérieux ready-to-use culture media by users. Users need only to ensure that storage conditions are maintained as recommended by bioMérieux.
To reinforce confidence in bioMérieux culture media quality, multiple solutions and evidence or support documents are provided:
√ Certificates of stability and validation of the transport conditions are available to demonstrate the quality maintenance of media during transport
√ Ready-to-use reference media (TSA-ISO 11133 and SDA-ISO 11133) already tested in accordance to ISO 11133 are available
√ Application guide of the EN ISO 11133: 2014 standard for food culture media users, to help understand the Standard, is provided upon request to bioMérieux Customer Service
To know more and access the new official commitment letter, please, follow the link: www.biomerieux-industry.com/en-iso-11133-2014
To request more information: www.biomerieux-industry.com/contact
Tags:
Date Published: 19th June 2017
Source article link: View
Related news