6th August 2014 Content supplied by: bioMérieux (Industry)
Release Dairy Products Within 24 Hours Rather Than Days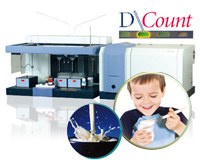 CHEMUNEX® solution from bioMérieux is already part of the main dairy companies worlwide being able to count every living single cell. This technology is applicable to fermented milk products and yogurts, UHT milk, desserts, fruit preparations, process water…
Throughout the dairy industry, quality control laboratories are facing increasing pressure to cut the turnaround time on their microbiological testing. The main driver for this is the desire within many companies to reduce production cycle times and inventories, implement just in time manufacturing processes, minimize the risk and cost associated with potential in-process contamination whilst continuing to guarantee and enhance the quality of products delivered to customers.
bioMérieux, worldwide leader in industrial microbiology supports dairy companies to achieve their objectives of enhancing profitability and product quality.
You can obtain yeast detection in fermented milk products within 24 hours or a TVC in fruit preparation within 48 hours instead of 3 to 5 days.
D-Count® and BactiFlow® ALS: Methods has a sensitivity of 1 CFU/pack – container with a high throughput for processing hundreds of samples per day.
Ultra sensitive microbial analysis for detection of yeasts in fermented milk products
Sterility testing of UHT milk
Sterility testing of desserts
Enterobacteriaceae
No data interpretation as quantitative results are displayed
Full data traceability improving product quality - Switch from QC to QA
International dairy companies implemented this technology with a payback time less than 2 years taking into account savings associated with reduction of stock holding, quarantine periods, warehouse cost or earlier release to market of end products
More information on bioMérieux website : www.biomerieux-industry.com/food/chemunex-flow-cytometry-analysers
Tags:
Date Published: 6th August 2014
Source article link: View
Related news