26th August 2014 Content supplied by: bioMerieux
Product Release of Beverages with Automated Flow Cytometers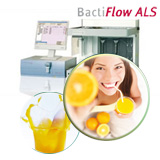 CHEMUNEX® solution from bioMérieux provides sensitive microbiological analysis in a minute cycle. Quantitative results can be available within 30 minutes with no requirement for pre-enrichment step such as in process control applications (e.g. water testing, bulk concentrate analysis before unloading trucks, fruit juice pasteurization control). Pre-incubation of final products (juices, nectars, iced tea…) is required for commercial sterility testing and shows results typically available within 24 to 48 hours.
Product releases based on effectiveness, safety and quickness are becoming an increasingly important factor for all fruit juice manufacturers worldwide. As classical microbiology is limited by the growth rate of microorganisms on culture media, rapid microbiology systems have become more and more interesting to quality assurance managers during the last few years. In addition the change from the traditional glass bottle to the modern PET bottle requires highest demands for aseptic filling.
bioMérieux, worldwide leader in industrial microbiology supplies and supports fruit juice manufacturers for ensuring the microbiological results with protocols applicable for:
Filterable beverages, iced teas, flavoured waters, energy and sport drinks
Non-filterable beverages, pulpy juices and fruit concentrates.
bioMérieux offers a wide range of applications to monitor the commercial sterility of the end products (after packing, bottling, …) and Total Viable Count, yeast or molds in raw material, fruit concentrates and intermediate products.
This technology benefits from a high throughput analyzing hundreds of samples per day saving up to 3 – 5 days.
D-Count® and BactiFlow® ALS. Flow cytometers have a sensitivity down to 1 cell per bottle or filtered volume.
International beverages  companies have already implemented this technology with a quick return on investment reducing quarantine time, decreasing inventory cost and implementing faster response to contamination incidents.
Presence/Absence:
TVC (Total Viable Count) in fruit juices, soft drinks, fruit concentrates and fruit preparation
Yeast and molds in beverages and juices
Direct Count:
Yeast in fruit concentrates and fruit preparation within 30 minutes
TVC in fruit concentrates and fruit preparation within 20 minutes
Water testing within 30 minutes
More info on the bioMérieux website.
Tags:
Date Published: 26th August 2014
Source article link: View
Related news