2nd December 2019 Author: Paul Carton
BioFire® Mycoplasma : A Cell and Gene Therapy Game-Changer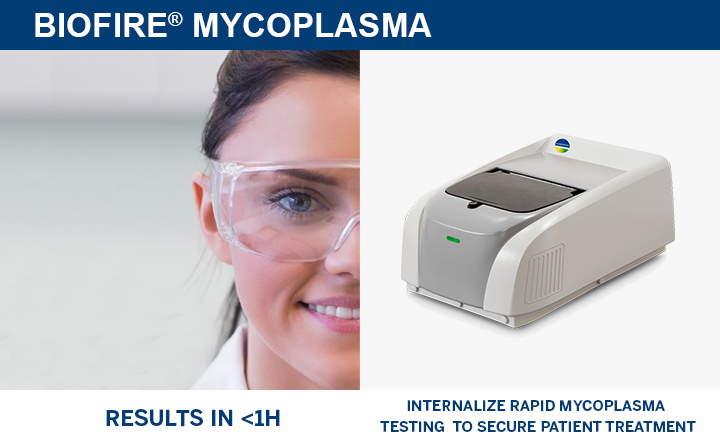 Dr Sylvanie Cassard, Global Solutions Manager, bioMérieux Healthcare, talks to rapidmicrobiology.com about the new revolutionary BioFire® Mycoplasma test. An "all in one" rapid mycoplasma test panel that allows laboratories testing Cell and Gene therapy products to perform mycoplasma tests in-house, requiring no molecular expertise and delivering results in under one hour.
Q. BioFire® is a well-established brand for testing clinical specimens, tell us about using this platform for testing Cell and Gene Therapies (CGT), how does it work?
A: As you mentioned, BioFire is today widely used for point of care diagnostics, with FDA approved panels allowing detection of infections in about 1h. The technology is a PCR-based system that integrates nucleic acids extraction, amplification and detection into a fully automatized closed system that is a real "miniaturised molecular biology laboratory".
Using the same technology, we have developed a new panel dedicated to mycoplasmas detection for Cell and Gene Therapy and Bioproduction, and a new software that is data integrity compliant. The analysis is done in a single consumable containing internal controls and freeze-dried reagents. The user just needs to load the sample in the cartridge, which is then inserted into the instrument that will perform:
extraction and purification of nucleic acids
reverse transcription of RNA into DNA to increase the sensitivity of living cells detection
a first multiplexed PCR
followed by a nested real-time PCR in an array that will detect >120 mycoplasma species
Q. What innovation does BioFire® Mycoplasma have over other mycoplasma detection methods?
A: Compendial methods are long and cumbersome and are not adapted for Cell and Gene Therapies or any short shelf-life products that need rapid detection methods. Current PCR methods bring rapidity with results in about 5 hours. However, they are still complex: they require a specific molecular lab organisation with PCR expertise to avoid contaminations and false results interpretations, and for extraction, they require PCR preparation and post-PCR steps.
BioFire mycoplasma is a real game-changer in the RMM (rapid microbiological method) world because it transforms a complex method into a simple and accessible test. It requires only 2 minutes of hands-on time, with no pipetting, and has a total time of 45 minutes from sample to a clear final automated result. It is also an "on-demand" analysis, with no waste of reagents as it is a unit dose testing method: 1 patient = 1 test at any time.
Q. What level of technical skill is needed for using the BioFire Mycoplasma?
A: This "load and go" solution has only 2 minutes of hands-on time, no pipetting and is fully automated so that anyone can use it; no specific PCR skills are required. This brings flexibility and standardisation for in-house testing.
Q. What evaluation studies have been done for this application?
A: A validation study was designed according to European Pharmacopeia chapter 5.1.6 and US Pharmacopeia Chapter 1223 guidelines to determine the specificity, the detection limit, the repeatability, robustness and ruggedness of BioFire mycoplasma detection solution. Some evaluations are also ongoing on different cells-based products by cell and gene therapy, and bioproduction companies.
Q. Tell us about how customers are using this product in a GMP environment?
A: Evaluations are ongoing and are done mainly for product release on ATMPs and for in-process controls during biologics manufacturing, which link the combined need of speed with ease of use. We have tested some raw materials internally like culture media, antimicrobials, enzymes, disinfectants or cryoprotectants to identify potential interactions with the technology.
Q. What are bioMerieux's other offerings for testing of biologics?
A: The BACT/ALERT® is an automated growth-based method described in the European pharmacopoeia chapter 2.6.27 for sterility testing of cell-based preparation.
For endotoxin detection, our ENDOZYME II GO offers an animal-free sustainable solution with a 50% reduction of handling time.
ScanRDI® is still the fastest method on the market for bioburden and sterility of filtrable products. Its benefits are to be the big red alarm button in case of contamination and to speed up the investigations.
BioMérieux invests a lot in R&D to develop innovative solutions to help monitor microbiological risk with more precise and efficient testing, and we are working on future solutions.
Tags:
Date Published: 2nd December 2019
Source article link: View