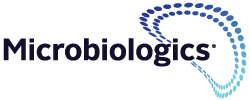 Microbiologics, Inc.
For over 40 years, Microbiologics has been producing the highest quality biological references materials for quality control testing world-wide. We offer the largest and most diverse line of QC microorganism products in the market, with over 800 different strains of bacteria, fungi, yeast, parasites and mycoplasmas. Our extensive product range includes both qualitative and quantitative microorganism preparations in a wide variety of easy-to-use, convenient formats.
Address St. Cloud
United States
Website
Email
Telephone
+[1] 320 253 1640
For everything from QC of microbial identification systems, daily process controls, QC of enumeration methods, QC of culture media, and water testing - we've got you covered! Our mission is to provide the highest quality biomaterials for a safer, healthier world.
Microbiologics manufactures cost-effective, reliable, and convenient biological reference materials for Quality Control in microbiology labs. The company specializes in manufacturing lyophilized microorganisms for quality control testing clinical, pharmaceutical, cosmetic, food quality, and environmental laboratories. Microbiologics is an FDA registered establishment and conforms to CE Mark regulations. In addition the company has received ISO 9001:2008 certification, ISO 17025:2005 and ISO Guide 34:2000 accreditations. Currently, Microbiologics has an international distribution network of 137 companies and ships to approximately 149 countries around the world.
Microbiology Product Areas
Clinical

NOTE: The products listed in this section may not be approved for clinical diagnostic use in your jurisdiction. You must assume these products are unregulated and therefore cannot be used for routine testing and reporting of results unless otherwise stated.
QC Molecular Standards
Show all suppliers
QC Organisms
Show all suppliers