13th November 2012 Content supplied by:
Microbiologics Launches New Parasitology Product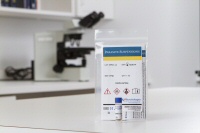 Microbiologics, Inc. have announced the launch of Parasite Suspensions, a new product designed for quality control and proficiency of diagnostic medical parasitology testing, and for teaching purposes in an educational setting. Microbiologics is a leading manufacturer of biological reference materials for Quality Control testing in Food, Pharmaceutical, Water, Clinical, and Educational microbiology laboratories. Microbiologics Parasite Suspensions mimic a patient sample, so the laboratory technician can process them the same way they would a real patient sample. They are packaged in a vial containing a 1 milliliter (ml) suspension of a specific parasitic population with known characteristics, formalin and fecal matter. The Parasite Suspensions are ready-to-use with virtually no preparation required and include a Certificate of Performance that provides detailed information about the parasite.
Medical parasitology is an area of the microbiology laboratory dealing specifically with the diagnosis of parasitic infections. The Centers for Disease Control and Prevention (CDC) estimates that at least one-third of the world's population is infected with intestinal parasites. There are a number of technologies and methods that are used for diagnosing parasitic infections including antigen detection tests, concentration preparations, wet mount microscopy and permanent stains. Microbiologics Parasite Suspensions are used as a positive control specimen to assure and document the laboratory's ability to properly perform the test procedures and produce accurate results.
Microbiologics Parasite Suspensions are the only CE Marked In-Vitro Diagnostic (IVD) device of their kind in the market. Brad Goskowicz, Chief Executive Officer of Microbiologics, commented, "Our new Parasite Suspensions were developed based on requests from our customers. It can be difficult to find quality parasitic organisms in the marketplace, so Microbiologics is excited to produce a high quality parasite product and make it accessible throughout the world."
Microbiologics is initially launching their Parasite Suspensions product line with 6 of the most common parasitic species including Giardia lamblia, Cryptosporidium species, Diphyllobothrium latum, Taenia species, Ascaris lumbricoides, and Strongyloides stercoralis. These organisms were chosen based on customer feedback and market research. The product line will continue to grow in the future as Microbiologics adds new parasites to the collection.
For further information
Email: marketing@microbiologics.com Or visit: www.microbiologics.com
Please note : Any products described on this page are for Research Use Only and not intended for clinical diagnostic procedures unless otherwise stated.
Tags:
Date Published: 13th November 2012
Related news