8th July 2014 Content supplied by: Microbiologics
Microbiologics Partners with Biomatrica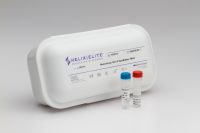 Microbiologics, Inc. has partnered with Biomatrica, Inc. Microbiologics has licensed Biomatrica's DNAstable® and RNAstable® technology for use in their line of molecular controls for rapid diagnostic instruments and assays.
This partnership supports the advancement of molecular diagnostic development and quantity control testing by combining the two companies' expertise in biomaterial development and preservation to create highly stable biological controls that may be globally delivered without cold-chain requirements. Microbiologics recently launched Helix Elite™ Molecular Standards which includes a series of synthetic RNA and DNA sequences to be used as amplification controls in clinical assays. Synthetic Helix Elite™ Molecular Standards are the first Microbiologics products to be stabilized using Biomatrica's technology.
Microbiologics Vice President of Molecular Products and Services, Brian Beck, Ph.D., commented, "We are pleased to be working with Biomatrica as they have extensive experience in stabilizing and preserving nucleic acids for multiple applications." Beck adds, "Our products are delivered to over 130 countries through a global distribution network. Incorporating Biomatrica DNA and RNA stabilizers in our molecular standards not only facilitates international shipping, it also increases the storage convenience and reliability of these products, which results in considerable cost-savings for our customers."
Judy Muller-Cohn, Ph.D., CEO and co-founder of Biomatrica, stated, "Microbiologics is widely known for their extensive collection of microbiology quality control reference materials and we are excited to partner with them. Biomatrica's best-in-class stabilization technologies will enhance Microbiologics' line of molecular controls by allowing for ambient temperature shipping and storage."
Brad Goskowicz, CEO of Microbiologics, said, "This partnership with Biomatrica strengthens our position as a global provider of the highest quality biomaterials for a safer healthier world."
Please note : Any products described on this page are for Research Use Only and not intended for clinical diagnostic procedures unless otherwise stated.
Tags:
Date Published: 8th July 2014
Source article link: View