18th October 2016 Content supplied by: Microbiologics, Inc.
Microbiologics Custom Solutions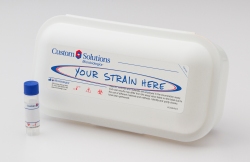 Custom Services for Management of Your Environmental In-House Isolates
An organism has been found in your manufacturing environment. What should you do now? To meet regulatory requirements, you may need to perform tracking and trending of this isolate.
Microbiologics Custom Solutions can help with your next steps:
Identification Services: We can identify the environmental in-house isolate (includes genotypic and phenotypic identification).
Custom Specifications in a Ready-to-Use Format: After your isolate is identified, we will preserve and manufacture your strain in a ready-to-use format that best meets your needs.
Storage Services: Use our lab as additional or backup storage for your biomaterials.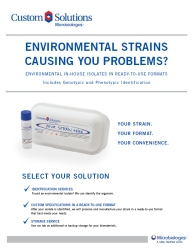 Download flyer on Environmental In-house Isolates in Ready-to-use Formats
Visit us at booth 302 during PDA Micro or contact custom@microbiologics.com to learn how Custom Solutions can help protect your brand.
Tags:
Date Published: 18th October 2016
Source article link: View