12th October 2015 Content supplied by: Microbiologics
New Helix Elite Molecular Mycoplasma Controls Feature at PDA Conference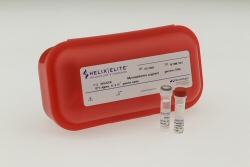 Microbiologics, Inc. will be featuring their line of quantitated Helix Elite™ Molecular Standards for mycoplasma testing from October 19 – 20, 2015 at the PDA Conference on Pharmaceutical Microbiology in Bethesda, Maryland. Mycoplasma testing is required at various stages in the production process for biologics including testing of raw materials, cell lines and finished product. Microbiologics is rolling out a suite of the most commonly contaminating mycoplasma species in their Helix Elite Genomic DNA Extracts format to assist laboratories in validating, verifying, and routine quality control of nucleic acid tests (NAT) for the detection of mycoplasma.
Microbiologics uses low passage mycoplasma strains from the National Collection of Type Cultures (NCTC) to produce their Genomic DNA Extracts. Nucleic acids extracted from the target pathogens are purified, stabilized and quantitated. Each preparation is assessed for purity, integrity and provided with a gene copy number for quantitation. Helix Elite Genomic DNA Extract kits include molecular standard water which is used to rehydrate the stabilized material. The products are shipped and conveniently stored at ambient room temperature.
Chief Executive Officer, Brad Goskowicz, commented, "Validating rapid microbiological methods (RMM) for mycoplasma detection can be especially challenging for laboratories because these strains are extremely difficult to grow and labs want to avoid bringing viable isolates into their facility. We developed our Helix Elite Genomic Extract mycoplasma controls as a safe, reliable and easy-to-use solution for those laboratories." Goskowicz added, "Microbiologics leads the industry with the depth and breadth of our product portfolio with strains sourced from the world's leading repositories and delivered in the most user-friendly formats."
Learn more about Helix Elite Genomic DNA Extracts for mycoplasma testing at the 2015 PDA Conference of Pharmaceutical Microbiology or by visiting the Helix Elite Molecular Standards page on Microbiologics' website.
Tags:
Date Published: 12th October 2015
Source article link: View