27th September 2017 Content supplied by: Microbiologics, Inc.
Microbiologics Add GFP-Marked Control Strains of L. monocytogenes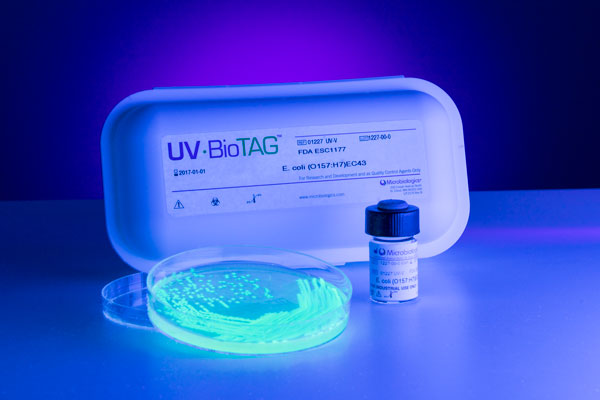 Microbiologics has added Listeria monocytogenes to their UV-BioTAG™ offering. UV-BioTAG is a line of bacterial reference strains that contain a green fluorescent protein (GFP) marker. Designed for quality control testing in food safety laboratories, UV-BioTAG cultures visibly fluoresce under ultraviolet (UV) light making them easily distinguishable from standard microorganism strains that may be isolated from food samples.
Food samples may inadvertently become contaminated with control strains used in the laboratory, leading to false-positive results which can have severe financial and regulatory implications. Brad Goskowicz, Microbiologics Chief Executive Officer, commented, "UV-BioTAG allows laboratories to quickly and reliably establish whether a positive test result can be traced back to a control strain cross-contamination issue, or if it is from another source." Goskowicz added, "Listeria outbreaks are a growing concern for regulatory agencies, food companies and consumers alike. We're proud to be a trusted source of authentic reference materials that support the food testing laboratories who are charged with making sure our global food supply is safe."
Three different L. monocytogenes strains have been added to the UV-BioTAG line including Serotypes 4b, 1/2a and 1/2b. E. coli O157:H7, Shigella flexneri, Salmonella Typhimurium and Salmonella Senftenberg are also available in the UV-BioTAG product line.
Dr. Brian Beck, Microbiologics VP of Molecular Products and Services stated, "Our UV-BioTAG strains are sourced from the Food and Drug Administration (FDA) and are rigorously tested using proteomic, phenotypic and functional methods to ensure their authenticity, stability and compatibility with common detection technologies." Beck added, "Our customers have requested the addition of Listeria in the UV-BioTAG offering and we're happy to deliver on that."
UV-BioTAG is available in two user-friendly formats. The UV-BioTAG Vial Kit contains six vials of six individually packaged lyophilized microorganism pellets, which are rehydrated in a sterile fluid, such as saline, and then plated on growth medium. The UV-BioTAG Swab Kit contains six all-in-one devices featuring a lyophilized microorganism pellet, ampoule of rehydration fluid and a swab, which allows for direct inoculation of growth medium.
For more information, visit www.microbiologics.com.
Tags:
Date Published: 27th September 2017
Source article link: View