20th January 2017 Content supplied by: Microbiologics, Inc.
Microbiologics New Website Improves Product Search and Online Ordering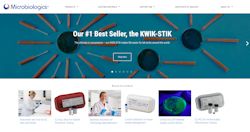 The newly redesigned Microbiologics website now has a clean design and focuses on user experience with improvements to online ordering, product search, strain information, and documentation access.
An improved search engine to help customers find the right product, strain or document.
Intuitive site navigation allowing users to browse products by industry, instrument or test kit, test method, standard or regulation, or product brand.
Easy online ordering and order tracking provides a convenient way to shop products, place and track orders, and easily reorder items.
Enhanced strain information including characteristics, culture methods, test applications, and in-stock/out of stock item status.
Improved Certificate of Analysis access including single click access to download and print all Certificates of Analysis within a sales order.
A personalized Distributor Portal for the more than 150 companies reselling Microbiologics products globally provides access to information and tools that empower partners to grow their businesses.
"Creating a website that reflects our company culture and exhibits our commitment to providing the highest quality biological controls to customers throughout the world was important to us," said Brad Goskowicz, Microbiologics Chief Executive Officer. "The new site will make it easier for our customers and distribution partners to find the quality control products they need to meet regulations and keep consumers safe."
"We are excited to introduce our next generation online experience to the world.  This state-of-the-art website personifies our commitment to be the "Approachable Experts" for the global microbiology community.  I am proud of the phenomenal leaders at Microbiologics that brought this vision to life," said Brad Pieper, Microbiologics Vice President of Sales and Marketing.  "This is a website designed by lab professionals, for lab professionals. We are excited to use this new platform to share our latest thinking with labs in every corner of the globe."
Over the next several months, Microbiologics will continue to make improvements and add new content to the website. Visit www.microbiologics.com to explore the redesigned website.
Please note : Any products described on this page are for Research Use Only and not intended for clinical diagnostic procedures unless otherwise stated.
Tags:
Date Published: 20th January 2017
Source article link: View