31st October 2016 Content supplied by: Microbiologics, Inc.
Microbiologics ID Panels for Bruker MALDI Biotyper Systems Validation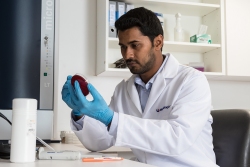 Microbiologics has partnered with Bruker to develop specialized identification panels for the Bruker MALDI Biotyper System and Bruker MALDI Biotyper CA System. These systems have revolutionized microbiology by providing high-speed, high-confidence identification and taxonomical classification of bacteria, yeasts and fungi. Bruker's MALDI Biotyper Systems are in routine use for producing microbial identifications in many different fields of microbiology. The Microbiologics identification panels for the Bruker instruments allow laboratories to efficiently and cost effectively perform the testing required by regulations and their laboratory SOPs for validation.
The panels featuring the Microbiologics test-ready KWIK-STIK™ design were introduced at the 2016 Parenteral Drug Association (PDA) Conference on Pharmaceutical Microbiology. KWIK-STIK contains a qualitative microorganism pellet, ampoule of hydrating fluid and inoculating swab, all in one device. The user-friendly design makes preparing microorganisms easier and reduces the risk of error.
"We are excited to be partnering with an innovative company such as Bruker and one who is the expert in MALDI based microbial identifications," said Microbiologics CEO Brad Goskowicz. "Their customer focus, integrity and commitment to continuous improvements fit well with how we operate."
"Working with Microbiologics has been terrific through every step of developing this custom control panel for our customers who require strains for their validation testing in the fields of clinical and pharmaceutical microbiology," said George Goedesky, Vice President, MALDI Biotyper- Americas. "It's exciting to see this new product offer resulting from our collaboration with Microbiologics and another sign of our commitment to providing solutions for our mutual customers via our open microbiology concept."
The co-branded pharmaceutical panels are available for purchase through Microbiologics and its global distribution network.
Tags:
Date Published: 31st October 2016
Source article link: Microbiologics, Inc.