21st October 2013 Content supplied by:
Epower™ STEC (inc. O157 and O104) QC Organisms in Ready-To-Use Format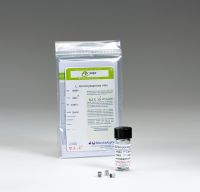 Microbiologics, has extended their offering of Shiga-toxin producing Escherichia coli (STEC) products to include Epower™. Epower™ is a ready-to-use QC microorganism product which delivers a specific number of colony forming units (CFU) and is used for quantitative microbiological quality control testing.
Microbiologics initially launched their line of ready-to-use STEC controls earlier this year, starting with their most popular qualitative formats, KWIK-STIK™, LYFO DISK® and QC Microorganism Sets. Under USDA regulation, E. coli serogroups O26, O103, O45, O111, O121 and O145, also commonly referred to as the 'Big 6 E. coli', are prohibited from raw ground beef, its components, and tenderized steaks. In addition to the Big 6 E. coli strains, Microbiologics also offers serogroups O157 and O104. Testing laboratories use Microbiologics QC microorganisms for validation, verification and routine quality control checks of their STEC testing processes, material, equipment and personnel proficiency.
Epower™ QC microorganisms are packaged in a vial of 10 lyophilized pellets consisting of a single enumerated microorganism strain. Also included is a peel-off Certificate of Assay detailing the identity and mean assay value of the pellets for quick and easy documentation.
Customers especially like Epower™ because of the versatility the product offers; Epower™ pellets can be easily manipulated to deliver a wide range of CFU concentrations, or multiple strains can be combined for a mixed microorganism population.
Please note : Any products described on this page are for Research Use Only and not intended for clinical diagnostic procedures unless otherwise stated.
Tags:
Date Published: 21st October 2013
Related news