29th May 2015 Content supplied by: Microbiologics, Inc.
Inactivated and Genomic Extract QC Controls for Molecular Assays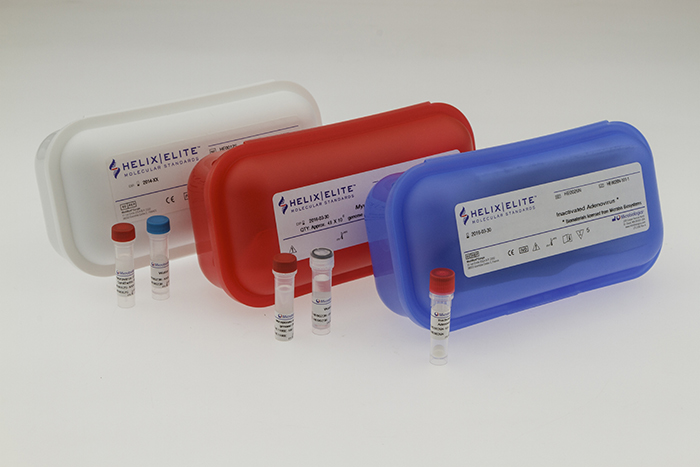 Microbiologics, Inc. have expanded their line of Helix Elite™ Molecular Standards with the addition of two new product formats, inactivated extraction controls and genomic DNA extracts. Used for validation, verification, proficiency testing and quality control of molecular assays, Inactivated and Genomic Extract controls are available in multiple strains. The Helix Elite brand now encompasses three distinct formats supporting each phase of the molecular testing process; synthetic nucleic acids and genomic extracts for amplification and detection, and inactivated controls for extraction through detection.
Inactivated Helix Elite Molecular Standards are fully intact process controls which are FDA listed and CE Marked In-Vitro Diagnostic (IVD) Medical Devices for use in clinical laboratories. These non-viable viral and bacterial targets are produced in the form of lyophilized pellets which are shipped and stored at room temperature. The quick dissolving pellets may be reconstituted in relevant buffers or transport media and then processed using the same protocols as the patient sample. Respiratory and gastrointestinal targets are available immediately, with additional respiratory and sexually transmitted disease targets being added throughout the year.
Genomic Extract Helix Elite Molecular Standards are dried, stabilized and quantitated nucleic acid extracted from target pathogens. Used as a positive control for the amplification and detection steps in molecular assays, each preparation is assessed for purity, integrity and provided with a gene copy number for quantitation. As with other Helix Elite Molecular standards, Genomic Extracts are shipped and stored at ambient temperature. The first Genomic Extracts available are from low passage Mycoplasma strains sourced from NCTC.
Microbiologics Chief Executive Officer, Brad Goskowicz, commented, "Laboratories worldwide continue shifting toward molecular-based technologies for pathogen identification and assessment of product quality. Microbiologics is at the forefront of developing customer-focused, specialized controls to support molecular technology developers and users in meeting regulatory requirements and providing test confidence." Goskowicz added, "In addition to our new retail offerings, the technology behind these products will also support our recently launched Business Solutions division. This division is dedicated to partnering with diagnostic and life science technology manufacturers to design, develop and deliver these formats as customized controls specifically for the customers that use their platforms."
Microbiologics Inactivated and Genomic Extract Helix Elite Molecular Standards will be exhibited at the American Society for Microbiology (ASM) General Meeting in New Orleans, Louisiana from May 30 – June 2, 2015.
Find out more at microbiologics.com/Products/Helix-Elite-Molecular-Standards
Please note : Any products described on this page are for Research Use Only and not intended for clinical diagnostic procedures unless otherwise stated.
Tags:
Date Published: 29th May 2015
Source article link: View
Related news