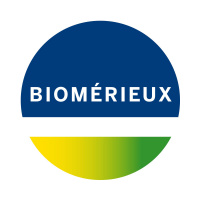 bioMérieux (Clinical Diagnostics)
A world leader in the field of in vitro diagnostics for 45 years, bioMérieux is present in more than 150 countries through 39 subsidiaries and a large network of distributors.
Address Marcy L'Etoile
France
Website
Email
Telephone
+[33] 4 78 87 20 00
bioMérieux provides diagnostic solutions (reagents, instruments, software) that determine the source of disease and contamination to improve patient health and ensure consumer safety. Its products are used for diagnosing infectious diseases and providing high medical value results for cancer screening and monitoring and cardiovascular emergencies. They are also used for detecting microorganisms in agri-food, pharmaceutical and cosmetic products. bioMérieux is listed on the NYSE Euronext Paris market (Code: BIM - Code ISIN: FR0010096479). Other information can be found at www.biomerieux.com.
bioMérieux and the blue logo are used, pending or registered trademarks belonging to bioMérieux S.A. or one of its subsidiaries.
Microbiology Product Areas