5th September 2016 Content supplied by: bioMérieux (Clinical Diagnostics)
bioMérieux Awarded Multi-year Agreement with NHS for Bacterial Screening of Platelets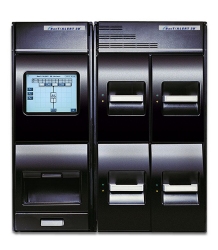 bioMérieux has been chosen by the UK National Health Service Blood and Transplant (NHSBT) for bacterial screening of platelets in England. NHSBT renewed its trust in bioMérieux's solution through a 2-year supply contract.
Following an extensive tender process, BacT/ALERT®, bioMérieux's automated microbial detection system, was selected by the NHSBT among a number of technologies for bacterial risk reduction in platelet components.
BacT/ALERT® is an IVD CE marked and FDA 510K quality control testing device cleared for platelets screening to detect both aerobic and anaerobic microorganisms in a platelet sample. Using the BacT/ALERT® system, the addition of chemical additives to the platelet bag or UV light activation is not required to reduce the risk of bacterial proliferation prior to transfusion.
Patient safety is the prime consideration for NHS Blood and Transplant. Approximately 330,000 adult therapeutic doses of platelets are produced annually in the UK. Although rare, bacteria may enter a blood pack during either the donation process, or manufacture and storage steps. Screening platelets at least 36 hours after donation helps reduce the risk of contamination and allows extension of their shelf-life from 5 to 7 days, thus reducing reject costs of outdated platelets and increase patient safety.
Dr Stephen Thomas, Assistant Director – Manufacturing Development (NHS Blood and Transplant), said: "After careful consideration of all the tenders received, bioMérieux's BacT/ALERT® system was selected for its ability to maintain bacterial safety of our platelet components."
"After 5 years of routine use of our BacT/ALERT® system, we are proud that NHS Blood and Transplant recognized once again the performance and cost-effectiveness of our automated technology for bacterial screening," said Nicolas Cartier, Corporate Vice President of bioMérieux's Industry Unit. "With 25 years of expertise and a solid leadership position in the field of microbiological control, bioMérieux confirms its longstanding commitment to maintaining the highest safety level for the patients and to improving public health worldwide."
See more at: www.biomerieux-industry.com/blood-bank-cellular-products-platelets-bacterial-safety
Tags:
Date Published: 5th September 2016
Source article link: View