14th July 2016 Content supplied by: bioMérieux
New VITEK® MS Update Enables ID of Mycobacteria, Nocardia & Moulds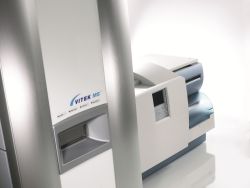 VITEK® MS is the first MALDI-TOF MS (Matrix Assisted Laser Desorption Ionization Time-of-Flight Mass Spectrometry) system to have an IVD-CE marked database for the identification of mycobacteria, Nocardia and moulds*.  Along with the database expansion, bioMérieux offers inactivation and extraction reagent kits to make rapid testing for these clinically important species safe and easy.
MALDI-TOF MS technology provides clear and accurate identification at the species, group, or genus level in minutes. While the VITEK® MS system has for years been able to reliably identify numerous bacteria and yeasts for clinical diagnosis, it now brings an important addition with high-performance rapid identification of mycobacteria, Nocardia and moulds1. Timely identification of these organisms helps in the management of diseases such as tuberculosis, serious fungal infections and osteomyelitis caused by non-tuberculosis mycobacteria (NTM).
These species come as part of a database update that makes VITEK® MS particularly comprehensive with 1,046 species and 15,172 distinct strains of bacteria, yeasts and moulds. New in the database are:
49 mycobacteria taxa comprised of 48 species
14 Nocardia species
48 mould taxa comprised of 47 species
197 other new bacteria and yeasts
VITEK® MS is a market-leading MALDI-TOF MS system with a unique algorithm (Advanced Spectra Classifier) that provides excellent discrimination between species. The database also accounts for diversity within a species for greater accuracy without the need to manipulate result scores to obtain species identification2.
The system is part of bioMérieux's comprehensive and complementary range of ID/AST solutions for infectious disease diagnostics. VITEK® MS and VITEK® 2 together provide flexibility aimed at optimizing laboratory workflow to allow rapid results that support the selection of appropriate antimicrobial treatment. VITEK® solutions offer rapid, accurate results, whether for routine diagnoses, unusual or resistant organisms, or critical clinical situations.
*Database is IVD-CE marked. FDA clearance pending. Not currently available in the US.
1) Mather, C.A., et. al. Comparison of the Bruker Biotyper and Vitek MS Matrix-Assisted Laser Desorption Ionization–Time of Flight Mass Spectrometry Systems for Identification of Mycobacteria Using Simplified Protein Extraction Protocols. J. Clin. Microbiol. 2014, 52(1):130.
2) Pence M.A., et. al. Comparison and optimization of two MALDI-TOF MS platforms for the identification of medically relevant yeast species. Eur J Clin Microbiol Infect Dis, 2014 ; 33(10):1703.
Please note : Any products described on this page are for Research Use Only and not intended for clinical diagnostic procedures unless otherwise stated.
Tags:
Date Published: 14th July 2016
Source article link: View