18th November 2011 Content supplied by: bioMérieux (Clinical Diagnostics)
bioMérieux supports EUCAST
The work EUCAST carries out to harmonize breakpoints throughout Europe is extremely important given the constantly evolving microbial environment. bioMérieux is committed to providing relevant susceptibility results by updating their Antibiotic Susceptibility Testing (AST) portfolio to ensure it integrates the EUCAST standard.

VITEK® 2, an automated ID/AST analyzer, uses the Advanced Expert System (AES) that integrates EUCAST Expert and breakpoint documents (www.eucast.org). AES also determines the phenotype of isolates by comparing their antibiogram with MIC distributions of resistant and wild type organisms stored in the AES database, which utilizes a MIC distribution concept very similar to the EUCAST wild type MIC distributions.
When reading and interpreting susceptibility results, as well as indicating unlikely phenotypes, VITEK 2 reports results using EUCAST information published through April 2010. No special cards are required for VITEK 2 and AES to provide these results.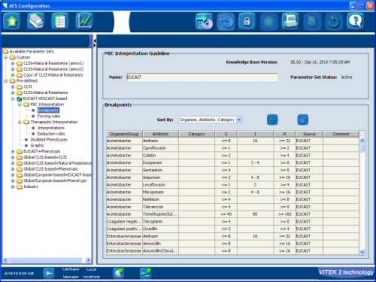 ATB™ and mini API® have also been updated with new strips that include the EUCAST breakpoints. Etest® strips provide on-scale MIC results and since they provide an extensive MIC range, they completely cover the EUCAST breakpoints. In addition, bioMérieux has validated Etest products with Mueller Hinton 2 agar (MHF).
bioMérieux is committed to updating products to ensure they are aligned with the constantly evolving environment of AST testing including implementation of EUCAST.
For further information contact your bioMérieux representative or check out: www.biomerieux.com/EUCAST
Please note : Any products described on this page are for Research Use Only and not intended for clinical diagnostic procedures unless otherwise stated.
Tags:
Date Published: 18th November 2011
Source article link: View