18th February 2013 Content supplied by:
bioMérieux Releases Etest® Ceftaroline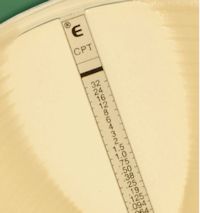 bioMérieux has launched Etest® Ceftaroline for susceptibility testing of S. aureus including methicillin resistant S. aureus (MRSA). The product joins the many FDA cleared Etest® products already used in clinical microbiology laboratories, and it can also be used in accordance with EUCAST and CLSI guidelines.
Susceptibility testing with Etest® Ceftaroline provides a broad, 15 two-fold dilution, minimum inhibitory concentration (MIC) range of 0.002 to 32 µg/mL. The MICs provided by Etest® are intended to help guide optimal antibiotic therapy. Ceftaroline is bactericidal against S. aureus, and therefore, the Etest MIC endpoint should be read at complete inhibition of growth.
Ceftaroline Fosamil (sold by Forest Laboratories, Inc. in the United States, Canada and Japan and AstraZeneca elsewhere) is a cephalosporin antimicrobial indicated for the treatment of acute bacterial skin and skin structure infections (ABSSSI) and community-acquired bacterial pneumonia (CABP), including those caused by methicillin-resistant Staphylococcus aureus (MRSA). Etest® Ceftaroline can be used to determine Ceftaroline Fosamil susceptibilities and provide MICs for Staphylococcus aureus for ABSSSI infections.
Learn more about Etest at: www.biomerieux-diagnostics.com/etest
Please note : Any products described on this page are for Research Use Only and not intended for clinical diagnostic procedures unless otherwise stated.
Tags:
Date Published: 18th February 2013