10th February 2009 Content supplied by:
Full Microbiology Lab Automation™ (FMLA): The Future of the Microbiology Laboratory
bioMérieux, a world leader in the field of in vitro diagnostics believes that full microbiology laboratory automation is imperative to streamlining operations and making more reliable results available faster, particularly in light of the growing threat of healthcare-associated infections.
Enhanced automation offsets an increasing lack of specialized personnel, and contributes to the control of healthcare expenditures. In this rapidly changing context, hospital and private microbiology laboratories are under considerable pressure to follow the trend of other workbenches which have already become fully automated.
"bioMérieux is leveraging its expertise in infectious diseases and the integration of innovative technologies to 'deliver the future' to the microbiology laboratory," said Stéphane Bancel, Chief Executive Officer, bioMérieux. "Driving full microbiology lab automation is bioMérieux's number one priority. We fully recognize the promise this brings to this industry as the role of the microbiologist becomes increasingly important - for patient care and food safety. bioMérieux is proud to be at the forefront of this movement."
Over the past year bioMérieux has taken automation to a new level in the pre-analytical phase of laboratory processes with the launch of PREVI Isola™, designed to automate routine plate inoculation, and PREVI™ Color Gram, teaming unique staining technology with automation. These two latest pre-analytical additions complement bioMérieux's already complete range of automated analytical solutions which include UF-1000i for urinary screening, BacT/ALERT® for blood culture, VITEK® 2 for identification and antibiotic susceptibility testing and DiversiLab™ for microbial strain typing.
To get the most out of this new level of automation, bioMérieux offers an additional service of working with lab managers to optimize their laboratory workflow. This service has already started to be provided in Europe and will be rolled out worldwide.
Channelling its 45 years of experience in the field of microbiology, bioMérieux is currently using this know-how to develop other market-driven automated solutions and is committed to delivering you the Microbiology Lab of the Future.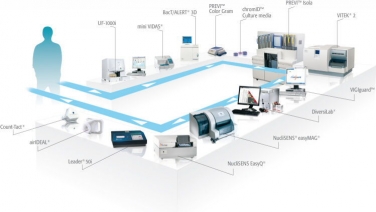 Discover our Full Microbiology Lab Automation™ (FMLA) offer : www.biomerieux-diagnostics.com/fmla
Please note : Any products described on this page are for Research Use Only and not intended for clinical diagnostic procedures unless otherwise stated.
Tags:
Date Published: 10th February 2009
Related news