4th December 2006 Content supplied by:
Merck's Gram Staining Kit now Modified and Phenol-free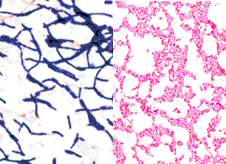 Merck has developed a modified and phenol-free Gram staining kit that satisfies even the highest diagnostic demands and yet is simple to handle and user-friendly at the same time.
The kit includes a modified crystal violet solution that is free of phenol and provides reproducible results, securely distinguishing between Gram-positive and Gram-negative bacteria.
Since study findings have shown that the staining result in Gram-positive bacteria can be enhanced further still by the addition of sodium hydrogen carbonate as a mordant, this solution is also included in the new Gram test kit. This solution is mixed 1:1 with the crystal violet solution. The mixture of crystal violet and sodium hydrogen carbonate results in a pronounced intensification of the stain of the Gram-positive bacteria, which show up deep blue under the microscope.
The iodine solution is an iodine/potassium iodine solution stabilized with PVP. The advantage offered by the addition of PVP is that a complex is formed with iodine in the solution. This complex reduces the evaporation of iodine out of the solution, thus keeping it more stable. The decolorizing solution is a mixture of ethanol and acetone, which ensures a secure differentiation of the bacteria. Counterstaining is enacted using a phenol-free fuchsin solution, which make the contrast to the intensively colored Gram-positive bacteria even more apparent.
The kit is offered in convenient plastic dropper bottles.
For further information about the wide range of products available from Merck Millipore for the bacteria detection by stain, please contact Merck Millipore using contact details at the top of this page.
Available products
| | |
| --- | --- |
| Merck Art. Nr. 1.01603 | Gram-color modified, phenol-free [2 x 100 ml, 3 x 200 ml] |
| Merck Cat. No. 1.04699 | Immersion oil [100 ml, 500 ml] |
| Merck Cat. No. 1.15577 | Immersion oil acc. to DIN ISO 8036-1, mod. [100 ml] |
| Merck Cat. No. 1.06965 | Oil of cedar wood [100 ml, 500 ml] |
Date Published: 4th December 2006
Related news