9th May 2016 Content supplied by: Hardy Diagnostics
Hardy Diagnostics' Automated Gram Stainer Range for Any Size of Lab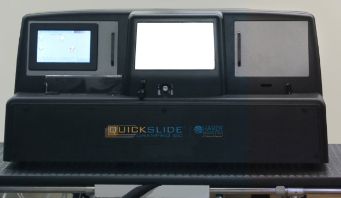 Hardy Diagnostics have recently acquired GB&B Co., now renamed QuickSlide™, an automated slider stainer/ equipment manufacturer based in Wichita Falls, Texas. With this acquisition, Hardy are able to provide customers with unprecedented access to a suite of automated stain sliders designed to lessen the time and effort of gram staining for small and large labs alike.
The GramPRO-80™ is a new gram stain instrument from QuickSlide™™. At a rate of 80+ slides per hour, the GramPRO-80™ immediately shows itself as a boon for larger hospitals and clinics. The totally hands free process means that technicians will be able to distributed valuable time to other tasks while still processing a record amount of slides. The GramPRO-80 has a small enough footprint that any lab counter can be easily updated through a secure internet connection. Automatic fluid level sensoring monitors reagent consumption of help minimize waste as well as waste management capability for more discerning labs. The Patented electronic eye precisely measures each stain so that the deolorization process is consistently perfect, regardless of the sample type or thickness. With the advanced technology implemented in the machine and quick, consistent turnover rate, the GramPRO-80™ automated gram stainer will help to ensure that patients are now waiting for quicker and more accurate lab results.
Other offers from QuickSlide™ include the smaller GramPro-1™, HemaPRO Automated Hematology Stain Instrument and Acid Fast Bacillus AFB-PRO. That means that there is an automated lab instrument for any size lab.
Please note : Any products described on this page are for Research Use Only and not intended for clinical diagnostic procedures unless otherwise stated.
Tags:
Date Published: 9th May 2016
Source article link: View
Related news