18th March 2007 Content supplied by:
Merck's Chromogenic Medium for Detection of Cronobacter sakazakii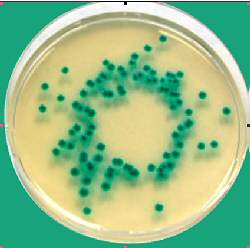 An excellent value chromogenic medium for the detection of Cronobacter sakazakii in milk powder and infant formula
No matter how accurate infant milk formula is produced, it will not be sterile and may occasional contain pathogen. Such a pathogen, Cronobacter sakazakii, found in powdered infant formula was associated with outbreaks of really severe disease in neonates and babies. The disease is unreasonably hazardous because of its very high mortality rate, 20-50% of the infants who contracted the disease died and for survivor's often severe and long lasting complications results including neurological disorders.
Merck's new ChromoCult® cronobacter sakazakii Agar will increase the security in detecting this microorganism in milk powder and infant formula.
Thanks to its chromogenic detection system, based on the alpha-D-Glucosidase - an enzyme specific for Cronobacter sakazakii - only the colonies of Cronobacter sakazakii appear turquoise while other bacteria grow colourless. ChromoCult® cronobacter sakazakii Agar allows a fast and reliable detection within only 24 hours with no further confirmation step.
Your benefits:
Best value for money A low price chromogenic medium for reliable, fast and safe detection of Cronobacter sakazakii.
Highest security There is no safer way than to use the unique chromogenic technique to detect all Cronobacter safely and clearly.
Simplified analyses Clear turquoise coloured colonies allow easy interpretation within 24 hours.
| | |
| --- | --- |
| Available products: | Merck Catalogue No. |
| ChromoCult® cronobacter sakazakii - 100g | 100873.0100 |
| ChromoCult® cronobacter sakazakii - 500g | 100873.0500 |
| Buffered Peptone Water - 500g | 107228.0500 |
| Lauryl Sulfate Broth - 500g | 110266.0500 |
| Sodium Chloride - 500g | 106404.0500 |
For further information about the wide range of products available from Merck Millipore please contact Merck Millipore (see details above) or click the link below.
Tags:
Date Published: 18th March 2007