7th March 2008 Content supplied by:
New Rapid Test for the Detection of Bacillus cereus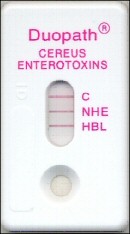 NEW - Lateral flow assay Duopath® Cereus EnterotoxinsThe wide range of innovative rapid tests available from Merck Millipore / EMD Chemicals has been extended to now include Duopath® Cereus Enterotoxins (Cat. No. 1.04146.).
This test is the first lateral flow assay that enables the specific detection of the human pathogen Bacillus cereus in food and environmental samples after enrichment in the newly developed CGY broth for 18-24 h hours. In addition, Duopath® Cereus Enterotoxins can also be used as a rapid confirmation test. Suspect Bacillus cereus colonies obtained from any B. cereus selective agar are easily confirmed within just 4.5 h using this new convenience assay.
Duopath® Cereus Enterotoxins finally helps food manufacturers to make quick decisions about the release of food products, especially those with shorter shelf life.
In recent years Bacillus cereus has become more and more relevant as a foodborne pathogen causing gastrointestinal diseases. Susceptible food products are meat and milk products, vegetables, soups, spices and especially baby food. Of particular importance are especially those strains of B. cereus that are able to produce enterotoxins causing a diarrhoea-associated food intoxication. These intoxications were mainly caused by the major enterotoxins haemolysin BL (HBL) and the non-hemolytic enterotoxin (NHE) produced by B. cereus during their intestinal passage in the human gut system. NHE is produced by more than 90 percent and HBL by about 55 percent of B. cereus isolates. Rapid test systems so far commercially available for detection of B. cereus are based on either only the production of HBL or of NHE.
The new Duopath® Cereus Enterotoxins is a reliable, rapid immunological screening and confirmation test for the simultaneous detection of both HBL and NHE with one single test strip. For use with Duopath® Cereus Enterotoxins, a new high-quality CGY enrichment broth was developed that drastically increases the formation of enterotoxins during growth, thus rapid and reliable results with Duopath® Cereus Enterotoxins are guaranteed. Two enrichment procedures using CGY broth were developed for both rapid (18-24h) and sensitive (26-30h) screening of foods with a detection limit of 100 and 1 CFU / gram food or environmental sample, respectively. Both procedures provide users with clear next day results which is important to make quick decisions about the release of foods.
Based on the immune flow principle, Duopath® Cereus Enterotoxins is designed to avoid time-consuming and manpower-intensive working steps. No instrument is required to run the test or to interpret the test result.
Duopath® Cereus Enterotoxins extends Merck's and EMD's unique and innovative Singlepath® / Duopath® lateral flow program for the rapid and convenient detection and confirmation of Salmonella, Listeria spp., Listeria monocytogenes, E. coli O157, verotoxin-producing E. coli (EHEC's), pathogenic Campylobacter, and for Legionella / Legionella pneumophila. As for all rapid tests available from Merck and EMD, Duopath® Cereus Enterotoxins is perfectly adapted to Merck's comprehensive range of high-quality granulated dehydrated culture media for the enrichment and plating of Listeria.
Ordering Information -----------------------------------------------------------------------------------------------------------------
| | |
| --- | --- |
| Products | Merck Cat. No |
| Enrichment | |
| CGY broth base | 1.01868.0100 |
| D-(+) Glucose | 1.08342.1000 |
| Detection | |
| Duopath® Cereus Enterotoxins | 1.04146.0001 |
| Selective Plating | |
| Cereus Selective Agar (M.Y.P. Agar) | 1.05267.0500 |
| Bacillus Cereus Selective Supplement (Polymyxin-B-sulfate) | 1.09875.0001 |
Tags:
Date Published: 7th March 2008