10th June 2009 Content supplied by:
Detection of Fungi using Stains/Staining Reactions
Fungi, yeasts and molds are widespread throughout the environment. For healthy persons they are not a serious problem as long as certain standards of hygiene are maintained. If the immune system is compromised, however, through chronic illness or tumor, they may pose an infection risk or result in manifest illness.They can, for instance, infect the nails, hair, skin, lungs, kidneys or lymph nodes. Detecting them is an essential prelude to instituting targeted remedial measures.Detection of fungi with various stains is quick and simple, and can be optimized through the use of ready-to-use Depending on the consistency of the specimen material, it may be necessary to perform a simple pre-treatment step with alkali prior to staining.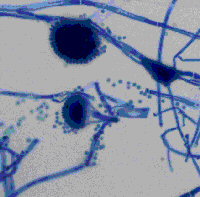 Lactophenol blue stain Use of a ready-to-use lactophenol blue solution enables the specimen to be stained in a single step. The fungi are stained dark blue and stand out well against the light blue background.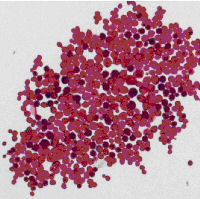 PAS (Periodic Acid Schiff) reaction Fungi are very easily visualized in a PAS reaction with Schiff's reagent, this method now being a standard application.Schiff's reagent is available ready-to-use as an individual reagent or as part of the PAS Kit, which also contains the periodic acid required for the oxidation reaction. As Schiff's reagent/PAS Kit is stored at room temperature, no time is required to warm the solution, so the result is obtained more quickly.In the case of specimen materials that need alkali pre-treatment it is important to make sure that they are not allowed to react too long, otherwise they may take on a soup-like or gelatinous consistency. The pre-treated specimen should be neutralized with 10% lactic acid and adjusted to pH 3-5. The PAS reaction involves first oxidizing the specimen and then reacting it with Schiff's reagent until the fungal elements take on a bright red color.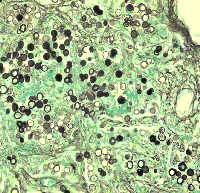 PAS and methenamine silver staining for histological specimens When histological material is examined for fungi, the procedure may likewise be a PAS reaction or a silver staining method. In the case of the PAS reaction the fungi are turned bright red in the tissue. Among the silver staining methods, the Gomori methenamine silver (GMS) stain is the method of choice. The fungi are seen as brown to black on a light green background that is created by counter­staining with Light Green SF. The methenamine silver stain is a tried and tested method that is simply, safely and reliably performed with a kit containing ready-to-use reagents or suitably prepared reagents.
Ready-to-use staining solutions and kits are a recommended way of applying standard methods reproducibly according to the standards of quality management required in medical laboratories. For all of the products mentioned, instructions are provided in the kit or, in the case of individual staining solutions, are available on the Internet or on request. These products count as IVDs and are CE certified.
For further information about the wide range of products available from Merck Millipore for fungal detection, please contact Merck Millipore (see details above).
| | | |
| --- | --- | --- |
| Product code | Description | Presentation |
| 113741 | Lactophenol blue solution | 100 mL |
| 109033 | Schiff's reagent | 500 mL |
| 101646 | PAS Kit | 2 x 500 mL |
| 100820 | Methenamine silver plating kit acc.to Gomori | sufficient for 50 prepared specimens |
Please note : Any products described on this page are for Research Use Only and not intended for clinical diagnostic procedures unless otherwise stated.
Tags:
Date Published: 10th June 2009