11th April 2014 Content supplied by: ElitechGroup
ELITechGroup Releases its Latest Slide-staining System in the TB area.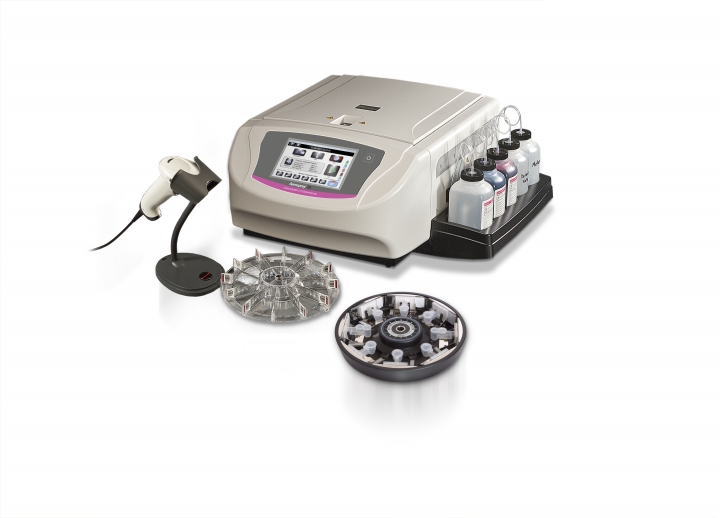 ELITechGroup Biomedical Systems has vast experience and proven expertise in producing practical and dependable slide-stainers and cytocentrifuges that are used throughout the globe, providing elite technology for laboratories of every size.
Over 2013, ELITechGroup has been working to update its entire line of series 1 Aerospray® stainers to the new series 2 design. The Aerospray Gram model was first, which was followed by the Aerospray Hematology Stat and Pro models. ELITech is now pleased to announce the launch of its new Aerospray TB stainer to complete the series 2 product line update.
Aligned on the other models, the new TB generation will be more oriented towards simplified ease-of-use, by offering new features such as a large touch screen, a barcode reader, and an intuitive user interface with language selection and help screens.
A key objective for the TB model was to deliver upgraded and more flexible programming in order to provide exceptional performance of the staining process with the various approaches used worldwide. The system also needed to demonstrate superior results over a range of specimens from negative or rare detection to those with strong positive results. This has been achieved and demonstrated in multicenter international evaluations.
The full line of Aerospray series 2 stainers aspires establishes a new standard is traceability. The series 2 memory stores critical information including: reagent data, specimen ID, user ID, and cycle operation history; all exportable via a USB port. ELITechGroup Biomedical Systems offers a complete range of dual-purpose stainer/cytocentrifuge models for the Microbiology and Hematology laboratories.
Pierre Debiais, president of the ELITech Group commented, "ELITechGroup is committed to meeting the evolving needs of clinicians and the microbiology lab with industry-leading, innovative solutions. We are very pleased to announce the launch of our newest Aerospray® TB stainer series 2. This device offers significant advantages over current manual or automated methods. This is particularly relevant in the case of tuberculosis where examinations of clinical specimens are of critical diagnostic importance.
Moreover, system qualification, and traceability of stain procedures and materials are becoming increasingly important. Having the right stainer with features that meet today's requirements is key to addressing current laboratory needs."
Please note : Any products described on this page are for Research Use Only and not intended for clinical diagnostic procedures unless otherwise stated.
Tags:
Date Published: 11th April 2014
Source article link: View
Related news