22nd October 2012 Content supplied by:
RCS® Microbial Air Sampling Systems for Ambient Air Monitoring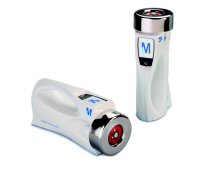 Merck Millipore's RCS®High Flow Touch is a complete, fully compliant (ISO 14698-1) system consisting of instrument and agar strips, for monitoring of ambient air and compressed gases. The instrument is equipped with a high-resolution color touchscreen for convenient and fast handling and the capacity to perform more than 35 x 1000 L measurements with one full charging cycle. Sampling takes less than a minute from preparation to starting a measurement.
The validated RCS® Isolator is a two-component system designed for confined areas like isolators and laminar flow areas. A cable connects the sampling head and the operating unit, allowing the sampler to be operated outside the laminar flow. The design of the sampling unit allows the air ducting to be led outside the critical area.
The RCS® Plus Ex air sampler is a fully validated, explosion-proof model based on RCS® technology. It is designed as an intrinsically safe instrument according to the ignition protection class 'ib' (EN 60079).
Date Published: 22nd October 2012
Related news